This post may contain affiliate links. Please see our
disclosure
for more information.
Sometimes the most delicious Halloween beverages are also the simplest, and this Vampire Bite Drink is a perfect example. All you need to create the cocktail is some 7-Up, Kool-aid Punch, and a little vodka, and you'll have a sweet and flavorful Halloween cocktail that looks wonderfully spooky, too. (Leave the vodka out and it's the perfect Halloween beverage for the younger set, too!)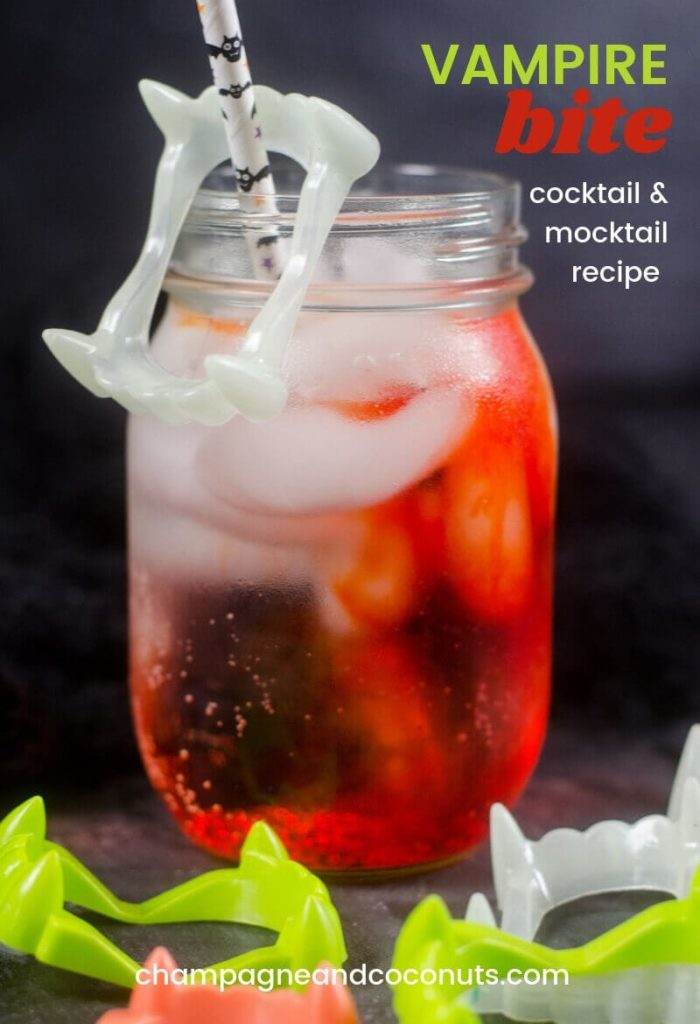 But the real secret to making this Halloween drink a spooky success is adding a pair of Vampire teeth to every drink you serve. Not only do those little plastic teeth really put the "vampire" in your Vampire Bite Drink, but they also provide the perfect opportunity for a little hilarity along the way.
After all, what would be better than watching your Halloween party guests attempting to sip casually at their tasty beverage while sporting a set of teeth in their mouths? With a little creative thinking, you and your guests might just figure out a way to turn it into a super-fun party game!
You may also enjoy serving our Black Magic Cocktail too. These two drinks are great to serve together, are easy to make, and can easily be adapted to serve with or without alcohol for the kids and the adults.
Why not try some of these delicious Halloween cocktail and mocktail recipes:
Vampire Bite Drink Recipe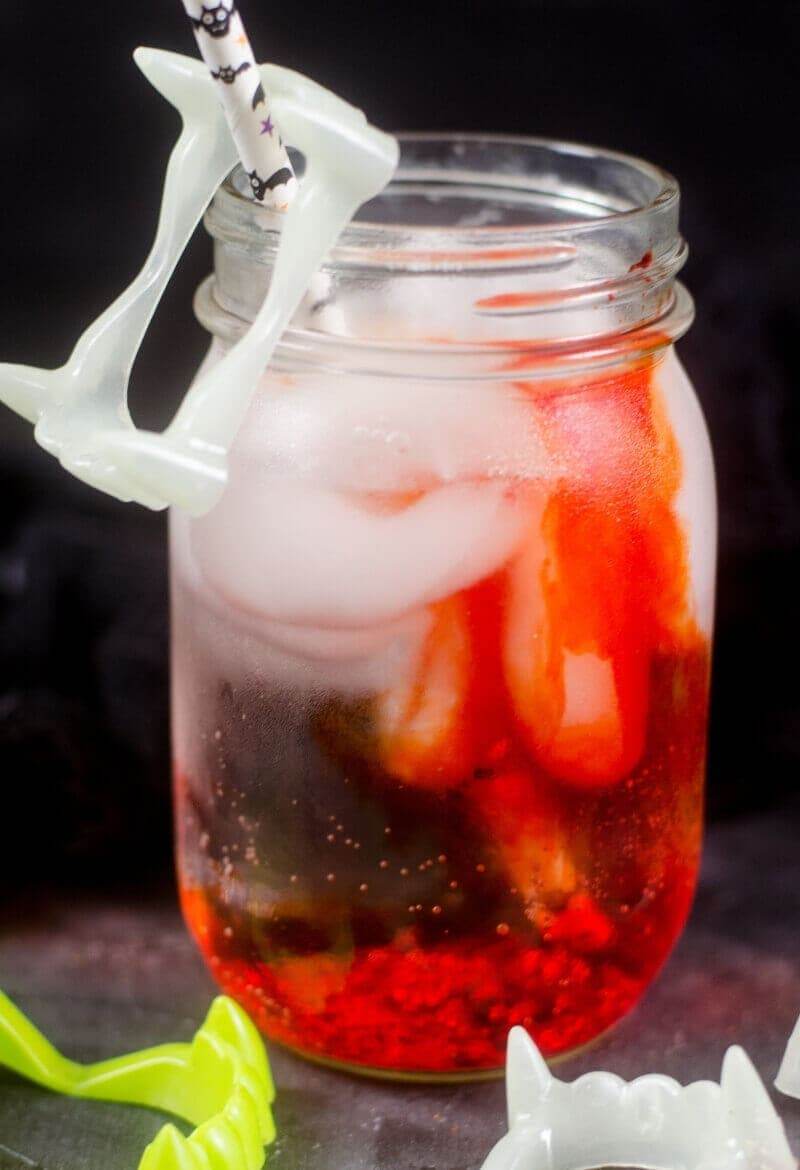 Could it be any easier than mixing 7-up with Koolaid Fruit Punch concentrate? And some vodka? Just line up your glasses, or mason jars like I used, in a row and pour down the line. It's super easy so that you have more time to spend with your guests and less time in the kitchen or behind the bar.
A note about calories: if you or a guest is trying to keep the calories and carbs down, you can substitute sparkling water or diet 7-Up to reduce the calories significantly. You're really only getting the calories from the vodka at that point as the Kool-Aid concentrate has zero calories and zero carbs. One ounce of vodka has about 65 calories depending on the brand / proof you use.
Ingredients you need to make the Vampire Bite
2 cups 7-Up (or you can use sparkling water)
1 oz Vodka
Just for fun! Jazz up your Vampire Bite drink with some fun, on-theme accompaniments such as:
Make it a Mocktail instead
Simply omit the vodka, and you still have a yummy drink that's great to serve to the kids.
How to make the Vampire Bite Drink
Add ice to glass. Pour in 7-Up or sparkling water.
Add two drops for fruit punch concentrate liquid.
Place straw through vampire teeth.
May add vodka or rum for adult fun.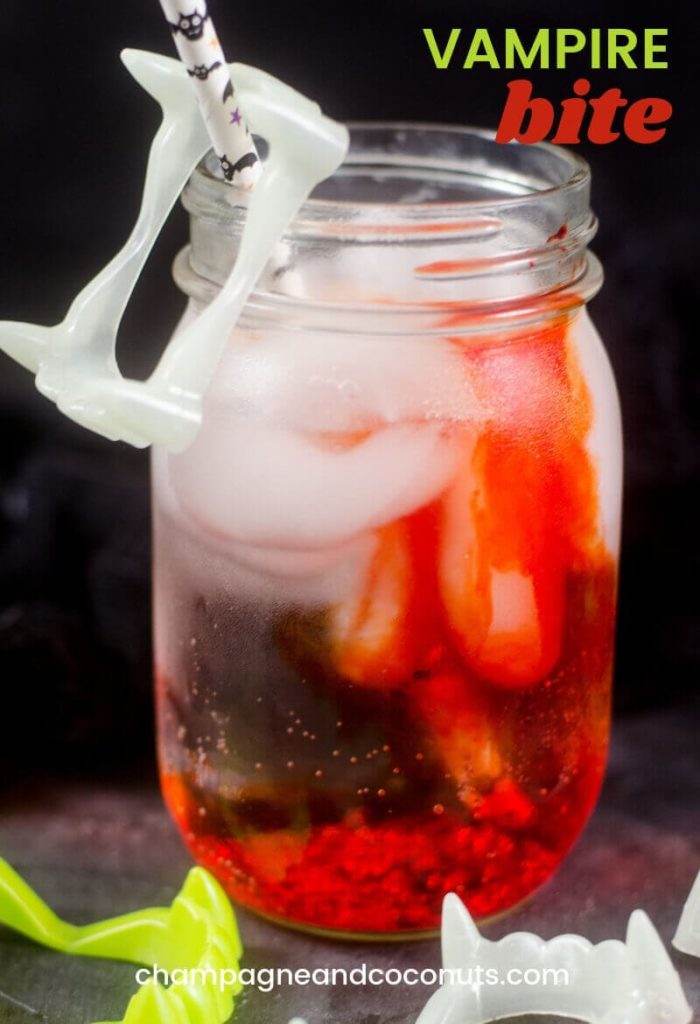 try it and share!
Please let us know how you enjoy our Vampire Bite Drink recipe. If you make it yourself, please let us know on Pinterest that you tried it and tag us with #champagneandcoconuts on your Instagram photo. If you haven't had a chance to make it yet, be sure to save the recipe on Pinterest so you'll remember where you found it.
You may enjoy following our Pinterest Boards, Vodka Recipes and Halloween Cocktail and Mocktail Recipes.
Print and Save the Recipe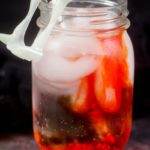 Print Recipe
Vampire Bite Drink
The Vampire Bite Drink is a delightfully fun and easy drink to serve for your Halloween parties. Only 3 ingredients and adorned with some vampire teeth to wear, it's sure to be a hit at your gatherings.
Prep Time2 mins
Total Time2 mins
Servings: 1
Calories: 260kcal
Ingredients
2 cups 7-Up
2 drops Kool-aid Tropical Punch Flavor Enhancer
1 oz Vodka
Instructions
Add ice to glass. Pour in 7-Up or sparkling water.

Pour one ounce of vodka in your glass.

Add two drops of the Kool-Aid flavor enhancer.

Place straw through vampire teeth.
Notes
Please note that nutrition facts are subject to change based upon your choice of ingredients.