This post may contain affiliate links. Please see our
disclosure
for more information.
When you think of a margarita, I bet you think of the typical recipe made with Tequila, Triple sec, lime, and salt. But there are so many ways to make delicious margaritas. So I have put together an amazing selection of fruity margarita recipes just for you!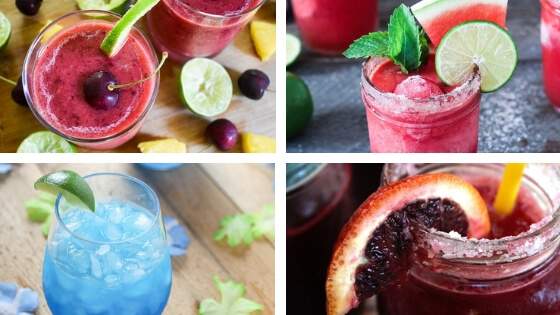 Margaritas remind me of the movie Forrest Gump. You know the scene where he's talking about all the different ways you can make shrimp? Margaritas are kind of the same. There's so many ways to combine delicious fruit flavors that the possibilities are only limited by your imagination.
Our favorite fruity margarita recipes perfect for National Margarita Day, Cinco de Mayo, or any time.
If you're a fan of Raspberries, there's a Margarita for you. Perhaps you're more into flavors like Mango or Pomegranate or even Watermelon – I've got you covered. There's even a great recipe for a delicious virgin Margarita made with beet, orange, and lime! So you can get your flavor kick without the alcohol.

Margaritas are the perfect beverage to serve up for Cinco de Mayo. But if you're like me, there really is no bad time of year to enjoy a Margarita. Delicious and refreshing on a hot summer day, fruity margaritas are festive enough to be a welcome addition to any celebration. Margaritas are the ultimate versatile cocktail. Just take a peek through the recipes in this list and you'll see what I mean.

Which one would you like to make first?
Our favorite fruity margarita recipes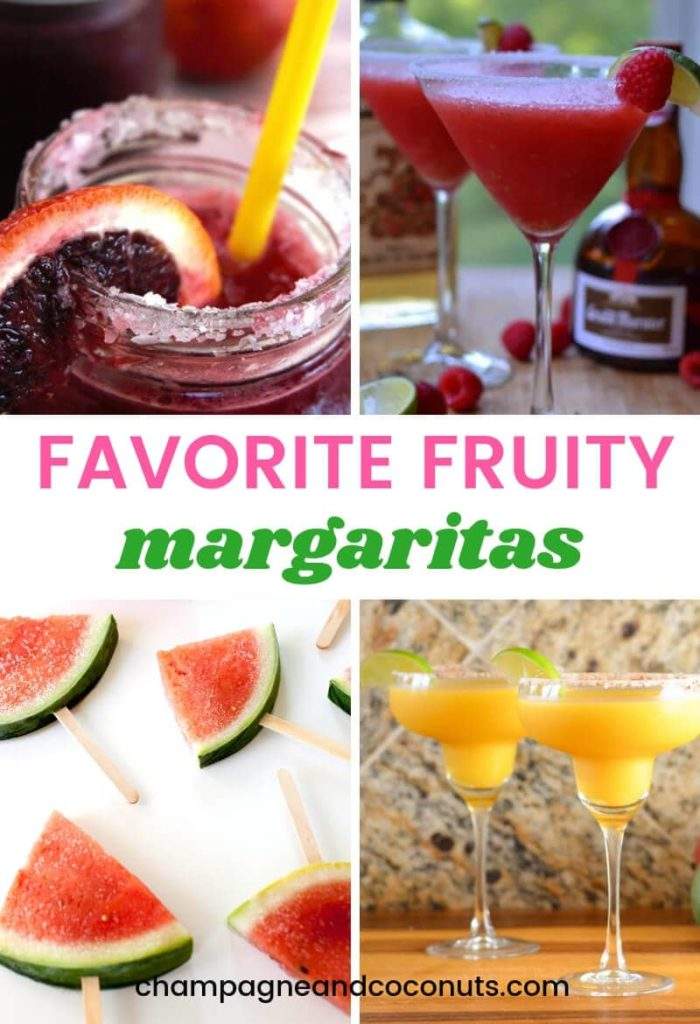 Beet, Orange and Lime Virgin Margarita – This frozen virgin Margarita is made with beets, blood oranges, and lime for a refreshing flavor so intoxicating, you won't even miss the alcohol!
Raspberry Margaritas – Raspberry lovers everywhere have a great reason to celebrate with these Raspberry Margaritas. So festive, sweet, and fruity, these are all dressed up for holidays from Fourth of July to Christmas!
Mango Margaritas – These Mango Margaritas look like sunshine in a glass, and taste just as sweet. Perfect for any warm weather event, especially those with a tropical flair!
Watermelon Margarita on a Stick – When the kids see these adorable Watermelon Slices on a Stick, they will be wanting some. But these Tequila-soaked slices of heaven are for adults only!
Skinny Margaritas and more!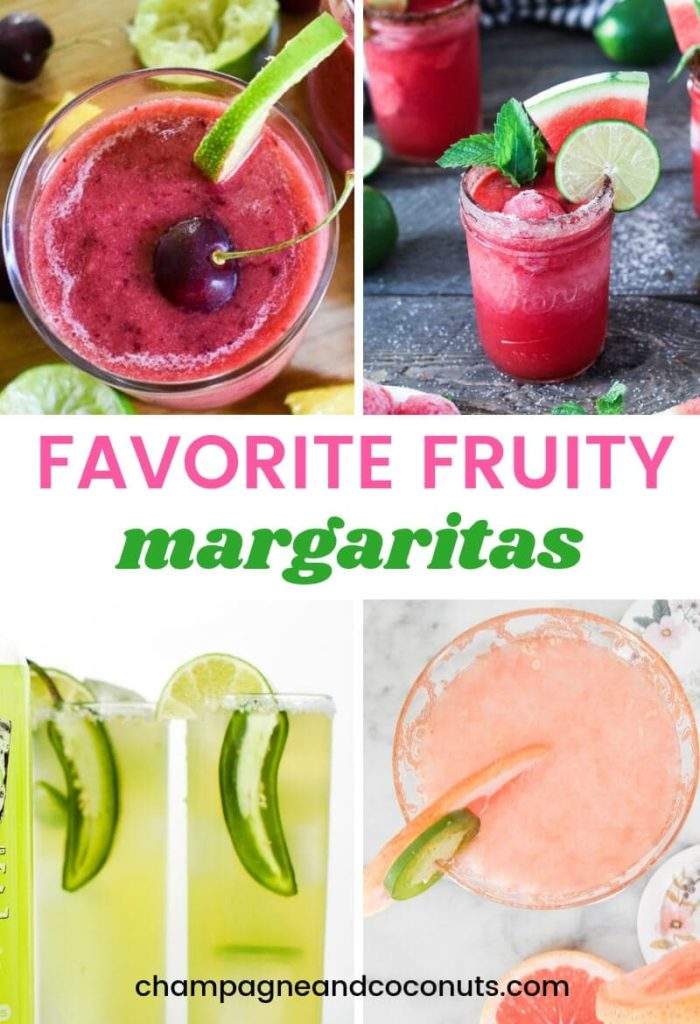 Making Margaritas has never been easier than with this awesome frozen concoction maker. It's actually called that too! Introducing the Margaritaville Bahamas Frozen Concoction Maker. With this thing, you are only limited by your own creativity!
Cherry Pineapple Margaritas – Made with frozen cherries and pineapples, these amazing margaritas taste like summertime no matter what time of year you make them. Best of all, they only take two minutes to make!
Frozen Watermelon Margaritas – These delicious margaritas are made with fresh ingredients and fresh watermelon is the star. Served cold and garnished with frozen chunks of watermelon, you'll want to serve these at all your summer parties!
Skinny Grapefruit Margarita – If you're trying to watch your calories while enjoying a good margarita, you'll love these! Made with Cascade Ice instead of fruit juice, these yummy cocktails serve up lots of pleasure for 55 calories!
Spicy Jalapeno Margarita – With flavors of orange, lime, and spicy jalapeno, these surprising margaritas hit ALL the notes. Even better, they are low carb – so if you're watching your sugar, you need these in your life!
Served frozen or on the rocks, you can't go wrong with a delicious fruity margarita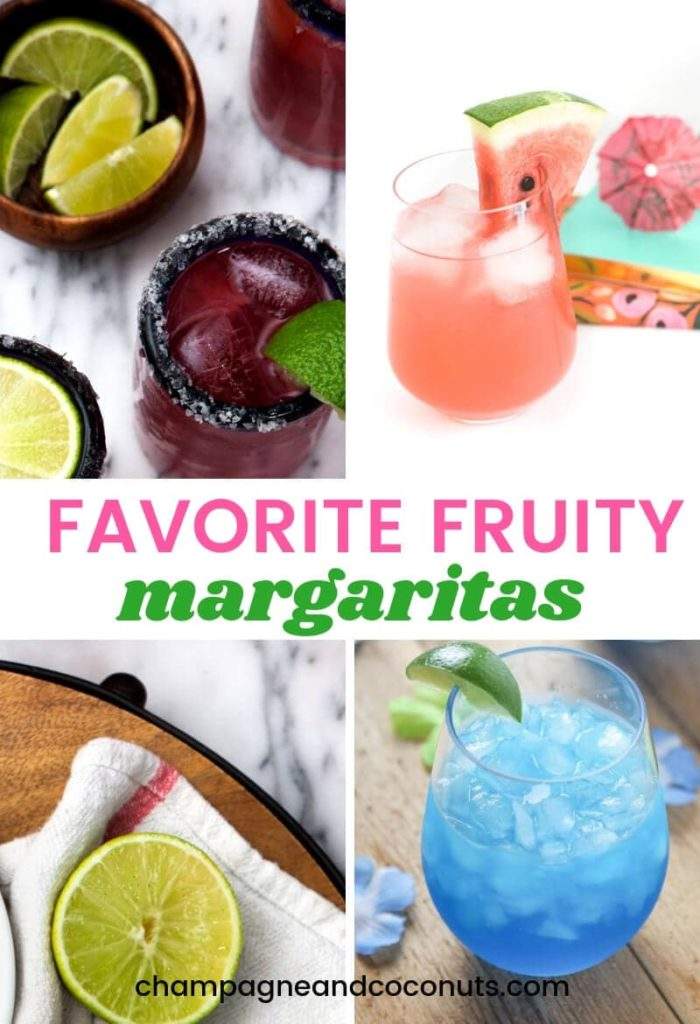 This adorable Salt Rim Margarita Set has a lot of personality, making it a great gift for the margarita lover in your life!
Pomegranate Margarita – These low calorie Margaritas taste of pomegranate and lemonade and are so rich in flavor, you'll never miss the calories!
Skinny Strawberry Watermelon Margarita – These Strawberry Watermelon margaritas are made with Cascade Ice, which makes them incredibly tasty while still low in calories. With all the flavors of summer, you can enjoy these amazing things any time of year!
Blue Margarita – These pretty blue margaritas taste like orange and lime, making them a great summertime cocktail. With their bright blue color, they fit right in for the Fourth of July, too!
Classic Margarita Recipes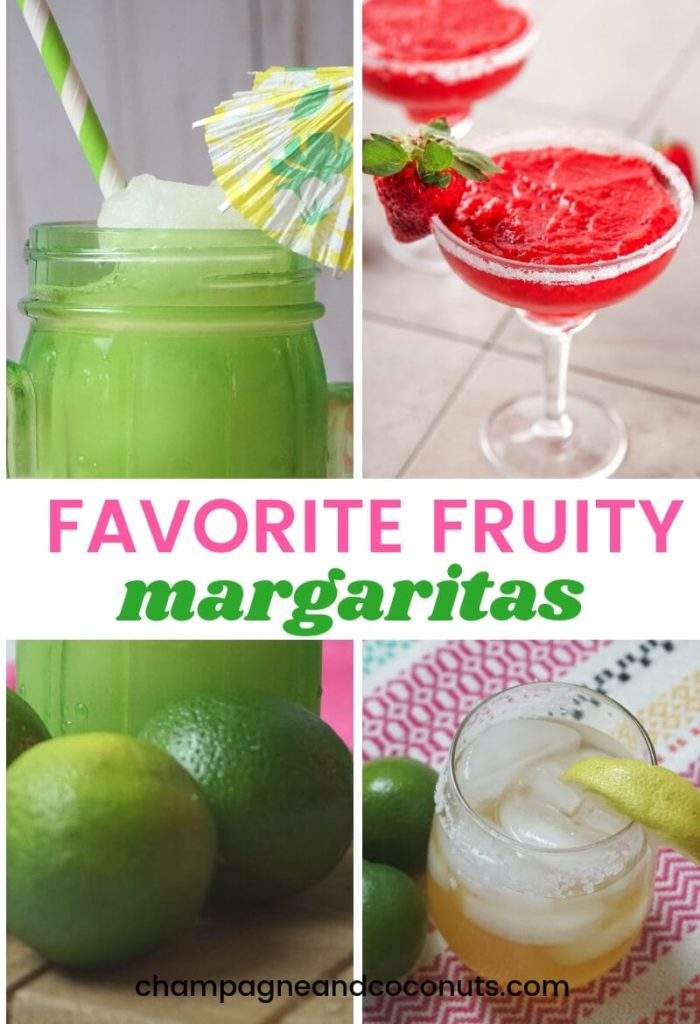 Low Carb Original Margarita – Even if you're eating low carb or keto, this recipe proves there's no reason you need to miss out on a good Margarita.
Frozen Strawberry Margarita – These delicious margaritas can be made with either fresh or frozen strawberries. Their bright festive color makes them perfect for holidays from Valentine's Day to Christmas, and their sweet flavor is welcome all year round!
Frozen Agave Margarita – For the ultimate margarita, you need to start with some good Agave. Whip up these frozen cocktails for wonderful sweet and sour flavors that dance on your tongue!
More delicious margarita recipes:
Sweet and Spicy Chili Mango Margarita
Frozen Strawberry Basil Margarita
Boozy Pineapple Dole Whip Popsicles
try it and share!
Please let us know how you enjoy trying some of these great Christmas Cocktail recipes. If you make one yourself, please let us know on Pinterest that you tried it and tag us with #champagneandcoconuts on your Instagram photo. If you haven't had a chance to make it yet, be sure to save the recipe on Pinterest so you'll remember where you found it.
You may enjoy following our Pinterest Boards, Margarita Recipes, and Tequila Recipes.
Disclaimer: Never use blogger photos without permission. The Virtual Assistant who prepared this post obtained permission to use the photos included in this article from various Facebook Roundup groups. Links were submitted by blog owners/representatives and are being used in accordance to the group rules.