We may earn money or products from the companies mentioned in this post. We are a participant in the Amazon Services LLC Associates Program, an affiliate advertising program designed to provide a means for us to earn fees by linking to Amazon.com and affiliated sites.
When you think of a margarita, I bet you think of the typical recipe made with Tequila, Triple sec, lime, and salt. But there are so many ways to make delicious margaritas. So I have put together an amazing selection of fruity margarita recipes just for you!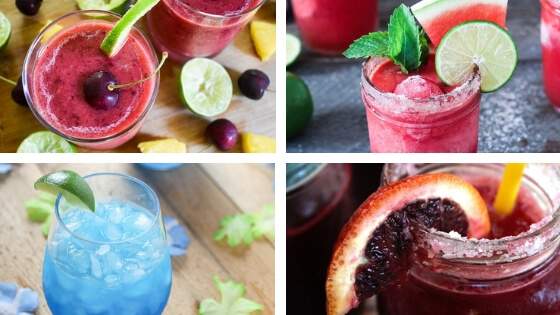 Margaritas remind me of the movie Forrest Gump. You know the scene where he's talking about all the different ways you can make shrimp? Margaritas are kind of the same. There's so many ways to combine delicious fruit flavors that the possibilities are only limited by your imagination.
 Our favorite fruity margarita recipes perfect for National Margarita Day, Cinco de Mayo, or any time.
If you're a fan of Raspberries, there's a Margarita for you. Perhaps you're more into flavors like Mango or Pomegranate or even Watermelon – I've got you covered. There's even a great recipe for a delicious virgin Margarita made with beet, orange, and lime! So you can get your flavor kick without the alcohol.

Margaritas are the perfect beverage to serve up for Cinco de Mayo. But if you're like me, there really is no bad time of year to enjoy a Margarita. Delicious and refreshing on a hot summer day, fruity margaritas are festive enough to be a welcome addition to any celebration. Margaritas are the ultimate versatile cocktail. Just take a peek through the recipes in this list and you'll see what I mean.

Which one would you like to make first?
Our favorite fruity margarita recipes
Beet, Orange and Lime Virgin Margarita
Watermelon Margarita on a Stick
Served frozen or on the rocks, you can't go wrong with a delicious fruity margarita
Skinny Strawberry Watermelon Margarita
More delicious margarita recipes at Champagne and Coconuts:
Sweet and Spicy Chili Mango Margarita
Frozen Strawberry Basil Margarita
try it and share!
Please let us know how you enjoy trying some of these great Christmas Cocktail recipes. If you make one yourself, please let us know on Pinterest that you tried it and tag us with #champagneandcoconuts on your Instagram photo. If you haven't had a chance to make it yet, be sure to save the recipe on Pinterest so you'll remember where you found it.
You may enjoy following our Pinterest Boards, Margarita Recipes, and Tequila Recipes.
Disclaimer: Never use blogger photos without permission. The Virtual Assistant who prepared this post obtained permission to use the photos included in this article from various Facebook Roundup groups. Links were submitted by blog owners/representatives and are being used in accordance to the group rules.
3