This post may contain affiliate links. Please see our
disclosure
for more information.
When it's about to get hot, hot, hot outside, it's great to enjoy some spicy food and drinks! And we've got a terrific recipe for a spicy sparkling margarita for you to enjoy. If it's hot outside, or if you just wish it was, this amazing margarita recipe has some kick!
The spicy sparkling margarita gets its kick from jalapeno peppers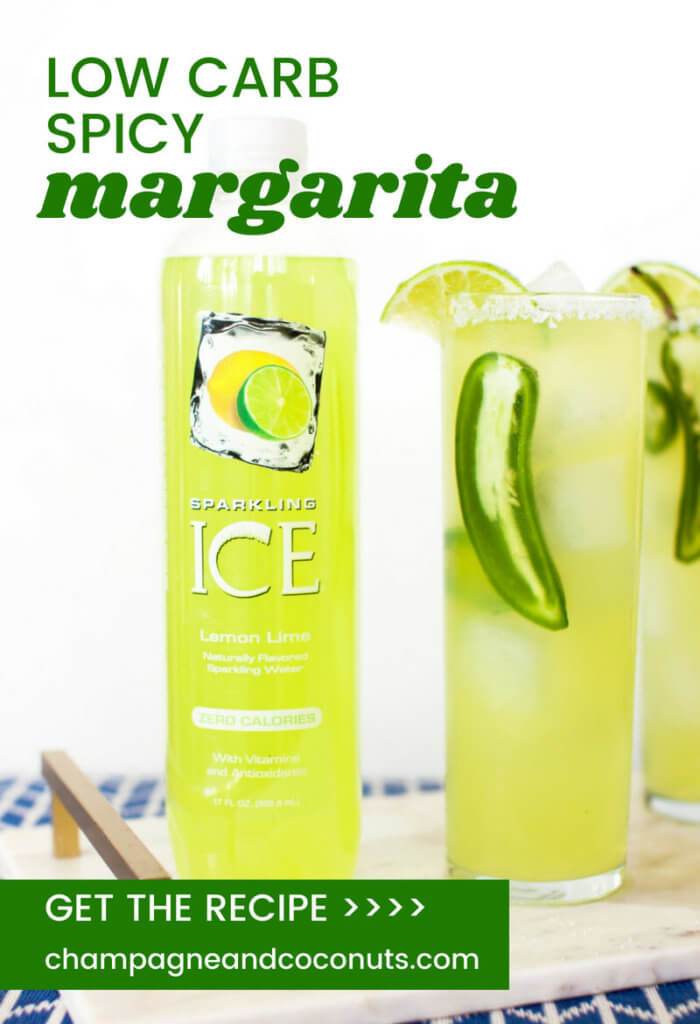 Perfect for Taco Tuesday, this jalapeno margarita recipe pairs great with your favorite Mexican dish. It's smooth, and the heat is just enough to enjoy without overpowering the flavors in your meal. It's also a perfect margarita for happy hour, your backyard barbecue, or as a companion drink to serve alongside a Bloody Mary for brunch. And even better? It has less than one carb!
What you need to make a low-carb spicy sparkling margarita
Like most of the cocktails you find on Champagne and Coconuts, this margarita recipe is easy to make at home.  This low-carb margarita is shaken, so grab your favorite cocktail shaker and ingredients and get mixing. You will need:
Blanco Tequila
Cointreau (or if you don't have that, you can substitute triple sec)
jalapeno pepper slices
lime
Sparkling Ice Lemon Lime
ice
salt to rim your glass
How to make the sparkling spicy margarita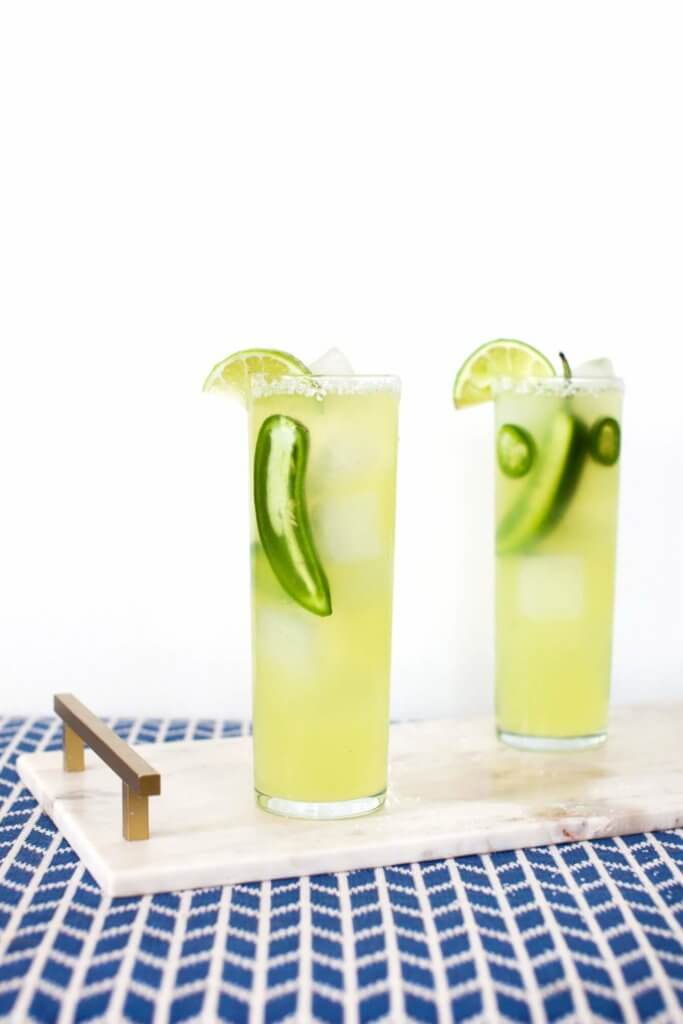 For one drink:
Shake Tequila, Cointreau, lime juice and peppers with ice. Pour into rocks glass with salted rim and lime wedge. Top with 
Sparkling Ice Lemon Lime
.
To make a big batch rather than a single drink, change the alcohol ratios to parts rather than ounces:
2 parts Blanco Tequila
½ part Cointreau
To make these margaritas, you'll need these tools:
Cocktail Shaker
Cutting Board
Chef's Knife
Rocks Glasses or Margarita Glasses
Optional: Plate for salting the rim
save or print the recipe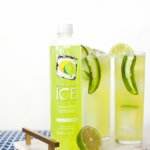 Print Recipe
Sparkling Spicy Margarita
This spicy, sparkling margarita with jalapenos and lime really pops. You wouldn't know that it's also a low-carb cocktail recipe with less than 1 carb per serving.
Prep Time3 mins
Total Time3 mins
Servings: 1
Calories: 204kcal
Equipment
Cocktail Shaker

Jigger

Cutting Board

Chef's Knife

Rocks Glasses or Margarita Glasses

Optional; Plate for salting the rim
Ingredients
2 oz Tequila Blaco
1 oz Cointreau or Triple Sec
1.5 oz Sparkling Ice Lemon Lime flavor
Jalapeno Slices to taste
1/8 Lime squeezed
Ice
Salt to rim glass
Instructions
In a cocktail shaker, add Tequila Blanco, Cointreau, Sparkling Ice Lemon Lime, ice and jalapeno slices. Shake.

Rim a rocks glass with salt. Pour cocktail mixture into glass.

Garnish with lime wedge and enjoy!
Notes
Please note that nutrition information is subject to change with your choice of ingredients.
try it and share!
Please let us know how you enjoy our Orange Mango Mimosa recipe. If you make it yourself, please let us know on 
Pinterest
 that you tried it and tag us with #champagneandcoconuts on your 
Instagram
 photo. If you haven't had a chance to make it yet, be sure to save the recipe on Pinterest so you'll remember where you found it.