This post may contain affiliate links. Please see our
disclosure
for more information.
Cheers, witches! That's right! Halloween is almost here, and it's time to celebrate with a cocktail and mocktail recipe called the Cheery Witches. Its nice yellow-orange color means it's visually perfect for your Halloween parties and celebrations while its tart flavor gives it some kick. And we just love a great witch themed drink!
Cheery Witches Sweet and Sour Mango Halloween Cocktail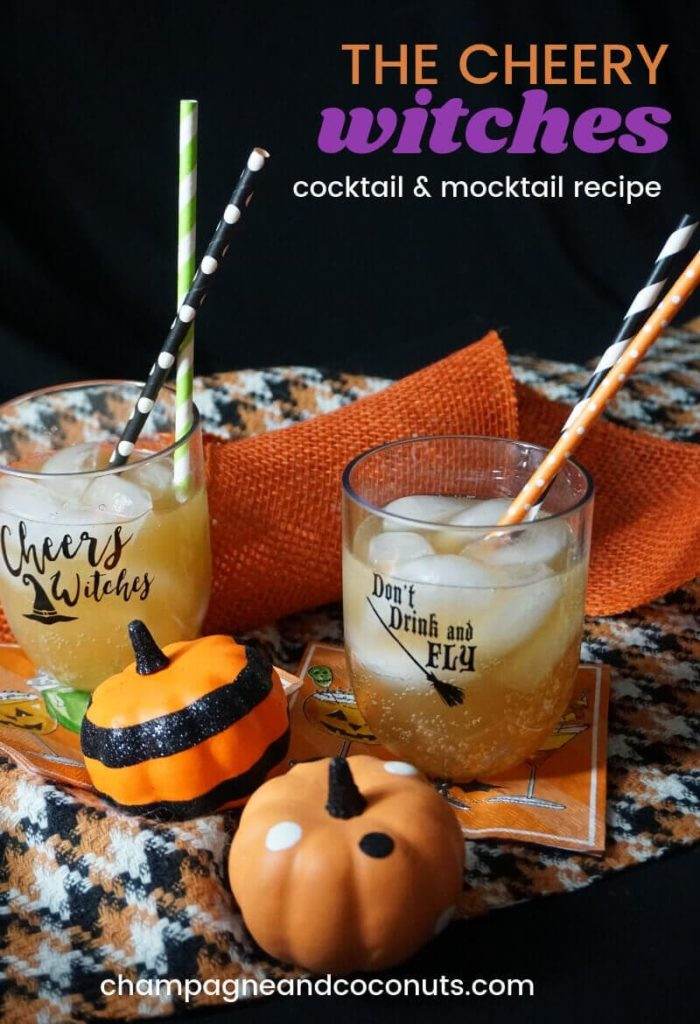 We like something a bit sour for Halloween as it delights our sour loving taste buds, but it's also reminiscent of potions. Whenever I think of a proper witches brew, I expect that it's going to have a bit of a sour punch to it, and making a drink with kombucha gives you some great sour!
I'm using Bao's Cultured Mango Kombucha for this recipe. It's available online and comes in 12 different flavors. The mango one is not as sour as some of their kombuchas, so you can go even more sour with some of the other flavors. But for Halloween, the mango has just the right touch. Especially when mixed with some sweet and sour mix.
A low calorie Halloween cocktail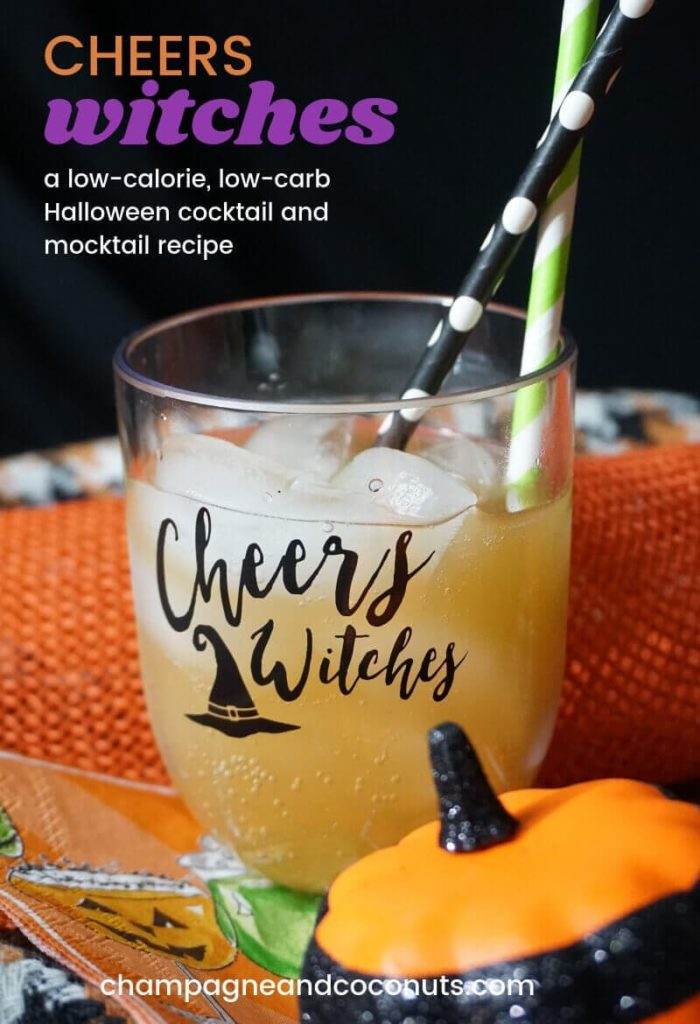 It has only 40 calories for an 8 ounce serving, so it also helps us to keep the calories low for this drink too. In fact, if you use regular lemon-lime soda, the drink still comes in under 100 calories. If you use diet lemon-lime, it only has 27 calories per serving.
The mango kombucha is carbonated but less so. Their carbonation process is a bit different from a lot of kombuchas, so we're adding in some lemon-lime soda to give it a little more fizz.
I fell in love with these adorable Halloween stemless wineglasses. So cute! I found mine at a local boutique, but I found some on Amazon that are quite similar. They are perfect for your Halloween parties, and you can even start using them once it's fall.
How to Make the Cheery Witches Sour Halloween Cocktail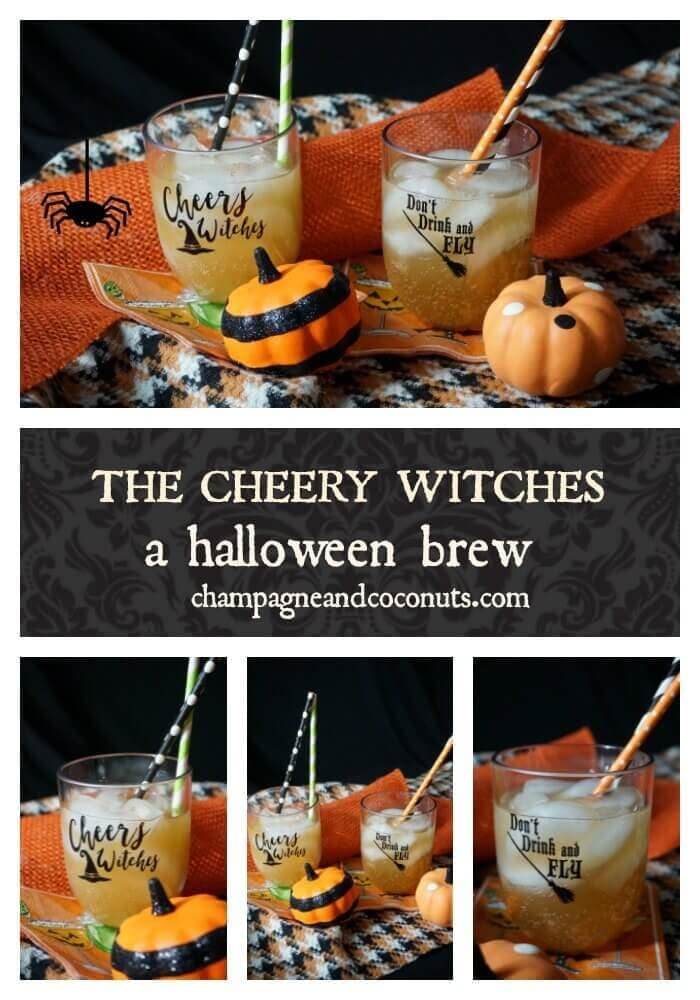 First of all, if you are a sour lover, you will want to get your hands on some kombucha. You can order some ahead of time for your party or pick up some mango flavored kombucha at the store. If you like sour, but you'd rather lighten up the sour taste, you can substitue the mango kombucha for Sparkling Ice's Orange Mango flavor. Since there's sweet and sour mix in the drink, you'll still have a touch of sour, but it will taste quite a bit more like a citrus lemonade.
You will need these ingredients:
2 oz vodka
2 oz lemon-lime soda
Let's make it a mocktail:
If you would like to serve the Cheery Witches without alcohol, simply omit the vodka and replace it with lemon-lime soda or more sweet and sour mix.  If you like it less sour, use the lemon-lime soda. If you like it more sour, use the sweet and sour mix.
Making the Cheery Witches Cocktail
Pour the vodka and sweet and sour mix into a mixing glass and stir. Then add your kombucha and lemon-lime soda. Lightly stir so as not to expel all of the carbonation. It's meant to be a potion, so you want to serve it bubbly.  Pour over ice and serve. If you would like to add a garnish, a fun Halloween garnish would be to use a sour gummy worm draped over the rim of the glass.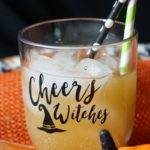 Print Recipe
Cheery Witches Halloween Cocktail and Mocktail Recipe
The Cheery Witches Halloween drink is perfect for those who love a great sour cocktail. Made with sour mix and mango kombucha, it's got some delicious sour flavors!
Prep Time5 mins
Total Time5 mins
Servings: 2
Calories: 92kcal
Ingredients
6 oz Bao Cultured Mango Kombucha
2 oz Vodka
2 oz Lemon-Lime Soda
4 oz Baja Bob's Sweet and Sour Mix
Instructions
Pour the vodka and sweet and sour mix into a mixing glass and stir.

Then add your kombucha and lemon-lime soda.

Lightly stir so as not to disturb the carbonation.

Pour over ice and serve. Enjoy!
Notes
Please note that nutrition facts are subject to change based on your choice of ingredients.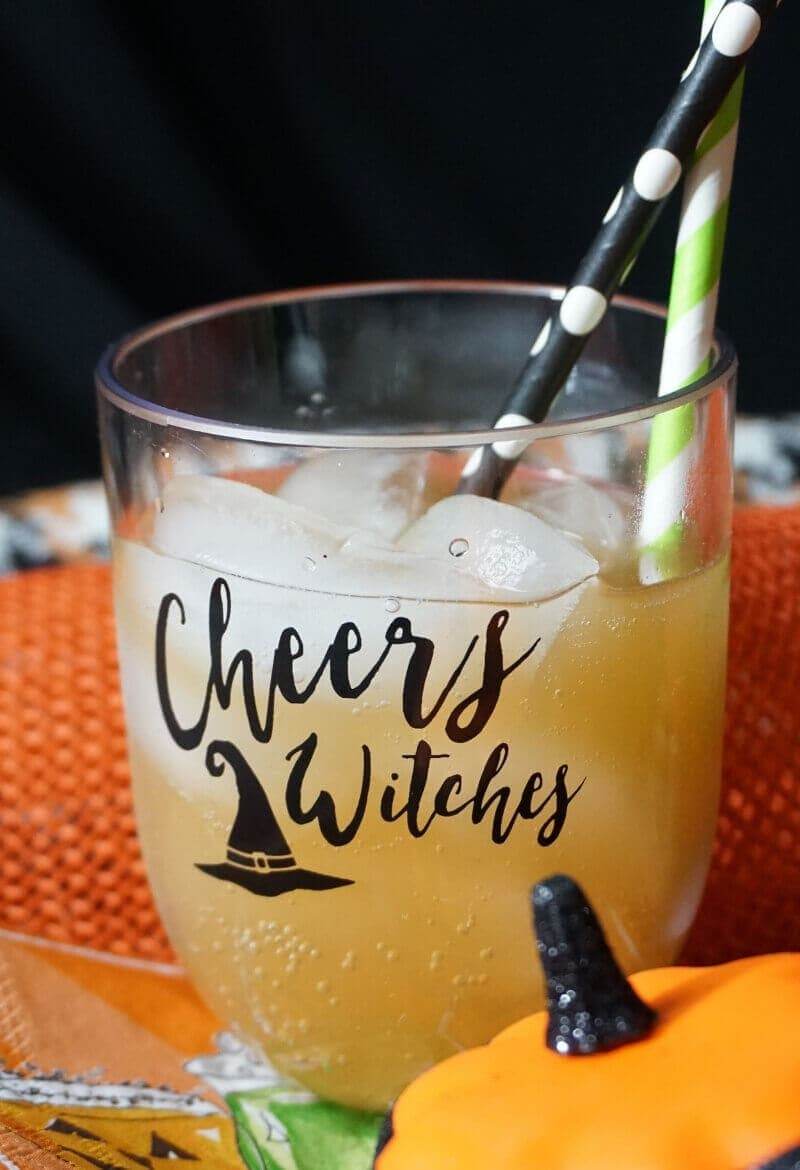 Speaking of witches, you may also enjoy some fun Harry Potter themed drinks! We have a yummy pumpkin juice recipe, And two cocktails inspired by the Fantastic Beasts franchise. The first drink is an Occamy Cocktail and the second is a Crimes of Grindelwald cocktail.
try it and share!
Please let us know how you enjoy our
Cheery Witches Mango Kombucha Cocktail
recipe. If you make it yourself, please let us know on 
Pinterest
 that you tried it and tag us with #champagneandcoconuts on your 
Instagram
 photo. If you haven't had a chance to make it yet, be sure to save the recipe on Pinterest so you'll remember where you found it.