This post may contain affiliate links. Please see our
disclosure
for more information.
When it's really hot outside, I long for cooler temperatures and all of the delicious treats that go along with it. One of the things I most look forward to is fresh pomegranates when they come in season. But alas, it's still the middle of summer and the sun is just getting startied showing us how hot it's going to be this year. So I like to cheat a little bit and enjoy an ice cold, pomegranate margarita. The drink is refreshing, and it satisfies my longing for a touch of fall.
The best little pomegranate margarita recipe is made in your home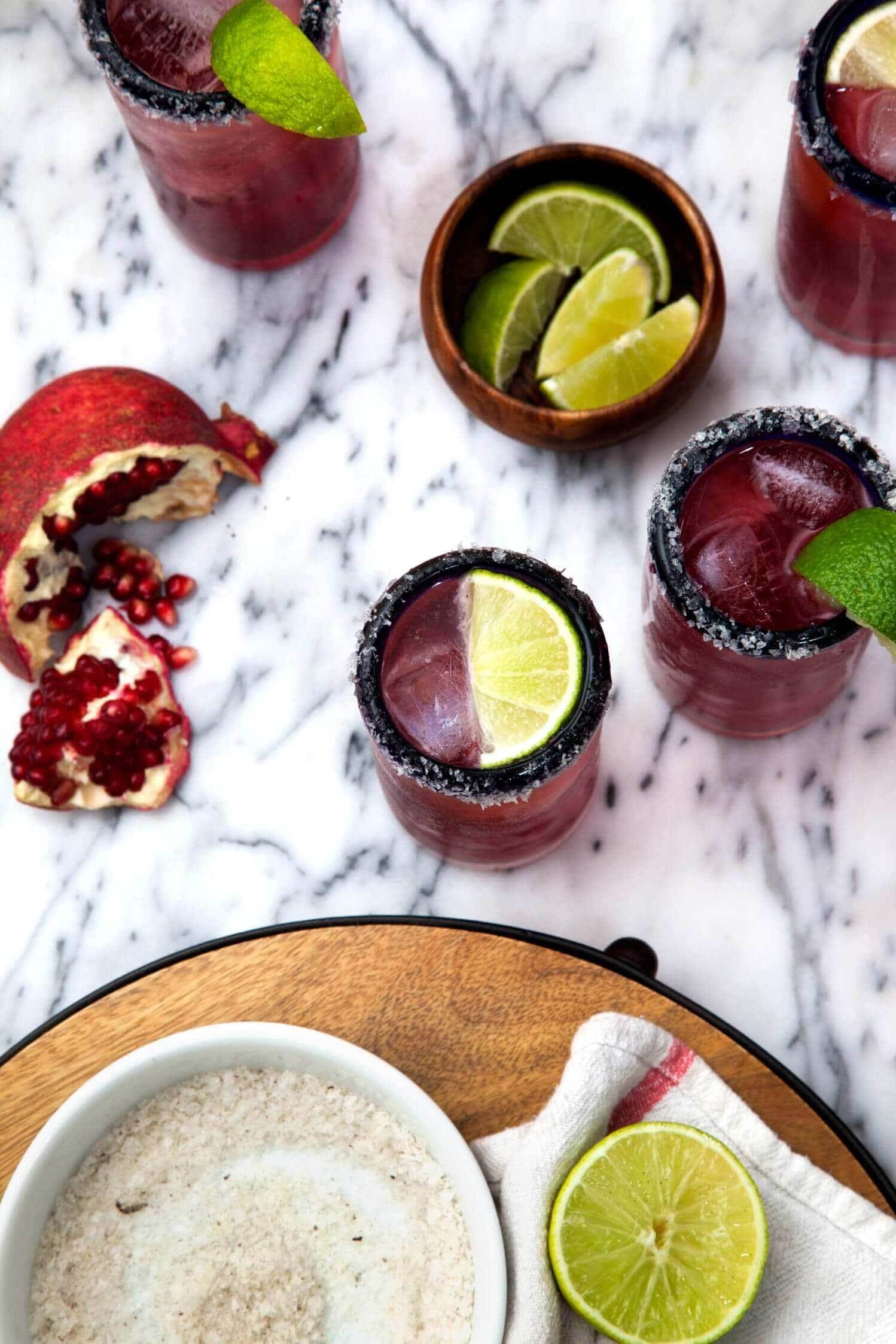 Seriously, this is the best pomegranate
margarita recipe
that's also lower in calories that I've made. Since it substitutes Sparkling Ice for traditional margarita mix, you can save quite a few calories. Its taste is simple and fresh. And it's super easy to shake one up and enjoy some delicious pomegranate flavor. Instant gratification.
I know you may have tried other pomegranate margaritas at Chili's or Applebee's as they are known for their pomegranate marg recipes. And those are
great margaritas!
But this is just as good, and you can make it yourself easily at home. And it's a skinny drink! Each serving only has 138 calories!
You may enjoy some other delicious cocktails too:
What you need to make a skinny pomegranate margarita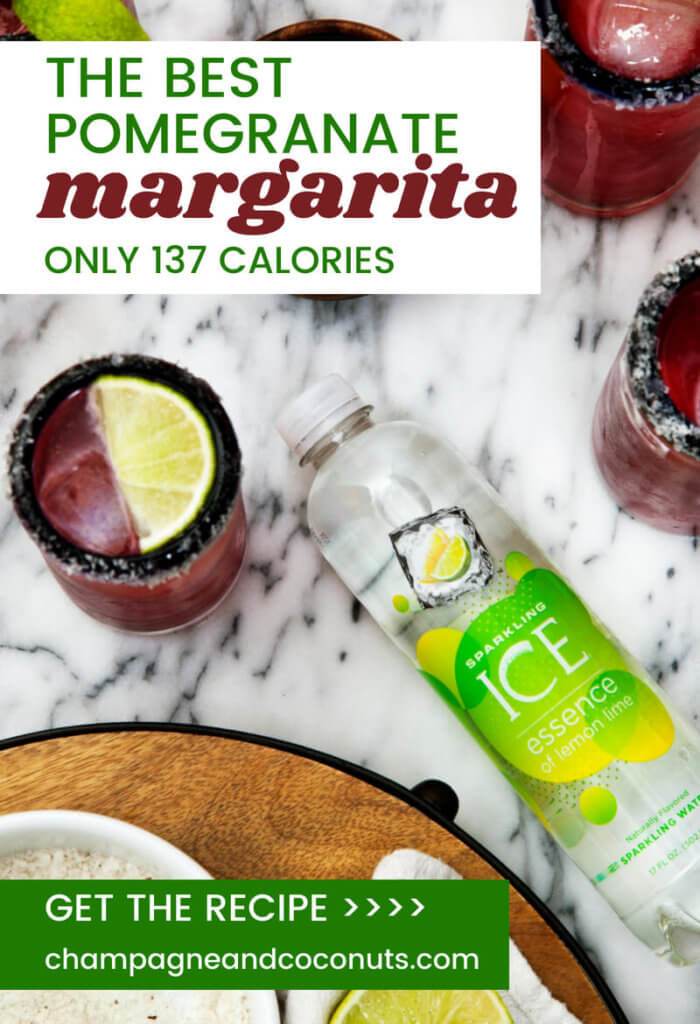 Don't you love it when the ingredients in a recipe are straightforward? There's nothing weird or difficult to find in this recipe. You should be able to find pomegranate juice at your local market year round. If not, you can always order some from Amazon if you have a craving. I really like the one from Pom.
Here's what you need to make the cocktail:
2oz tequila
2oz pomegranate juice
1 oz lime juice
1 oz simple syrup
Vanilla flake salt rim, for garnish
Lime wedge, for garnish
Make it a mocktail!
To make this margarita without alcohol, simply substitute 2 ounces of club soda or lemon-lime soda for the tequila. As an alternative, you can also simply pour an additional 2 ounces of Sparkling Ice's Classic Lemonade.
Let's make a margarita!
Rim glass with a lime and dip into salt, fill glass with ice and set to the side. In an ice filled cocktail shaker, combine tequila, pomegranate juice, lime juice, simple syrup, and shake. Strain into glasses and top with
Sparkling Ice Classic Lemonade
, stir lightly to combine. Garnish with a lime wedge.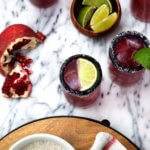 Print Recipe
The Most Amazing Pomegranate Margarita Recipe
Try the best pomegranate margarita recipe I've made. It's simple, fresh, and easy to shake one up and enjoy some delicious pomegranate flavor.
Prep Time3 mins
Total Time3 mins
Servings: 2
Calories: 138kcal
Ingredients
2 oz Tequila
2 oz Pomegranate Juice
1 oz Lime Juice
1 oz Simple Syrup
Sparkling Ice Classic Lemonade
Vanilla Flake Salt Rim for garnish
Lime Wedge for garnish
Instructions
Rim your glasses with a lime and dip into salt.

Fill glass with ice and set aside.

In an ice-filled cocktail shaker, combine tequila, pomegranate juice, lime juice, and simple syrup. Shake.

Strain into glasses and top with Sparkling Ice Lemonade. Stir lightly to combine.

Garnish with lime wedge and enjoy!
Notes
Please note that nutrition information is subject to change based on your choice of ingredients. 
try it and share!
Please let us know how you enjoy our Pomegranate Margarita cocktail and mocktail recipe. If you make it yourself, please let us know on
Pinterest
that you tried it and tag us with #champagneandcoconuts on your
Instagram
photo. If you haven't had a chance to make it yet, be sure to save the recipe on Pinterest so you'll remember where you found it.