This post may contain affiliate links. Please see our
disclosure
for more information.
Whilst many bars and bartenders argue over the authentic way to make Cuba's classic Mojito cocktail, this revolutionary recipe trumps the lot. It truly is a perfect mojito recipe.
The best mojito recipe
I have had friends tend bar in different cocktail bars on at least three different continents. Every single one of those bars has a different recipe for Mojitos. Yet they all claim that their particular recipe is the one and only real way to make Cuba's signature cocktail.
Traditionalists may consider the following recipe a blasphemous defamation of the longstanding cocktail bibles. But however skeptical, give it a try; I have no doubt that even the most steadfast opposition will struggle not to agree. As for any first-timers, count yourselves very lucky to discover the world's best Mojito recipe. You don't have to spend years searching for and tasting below par mojitos.
If you love a great mojito (even a non-traditional one), you may enjoy trying some of these mojito recipes too:
What you need to make a perfect mojito
Pin it to save for later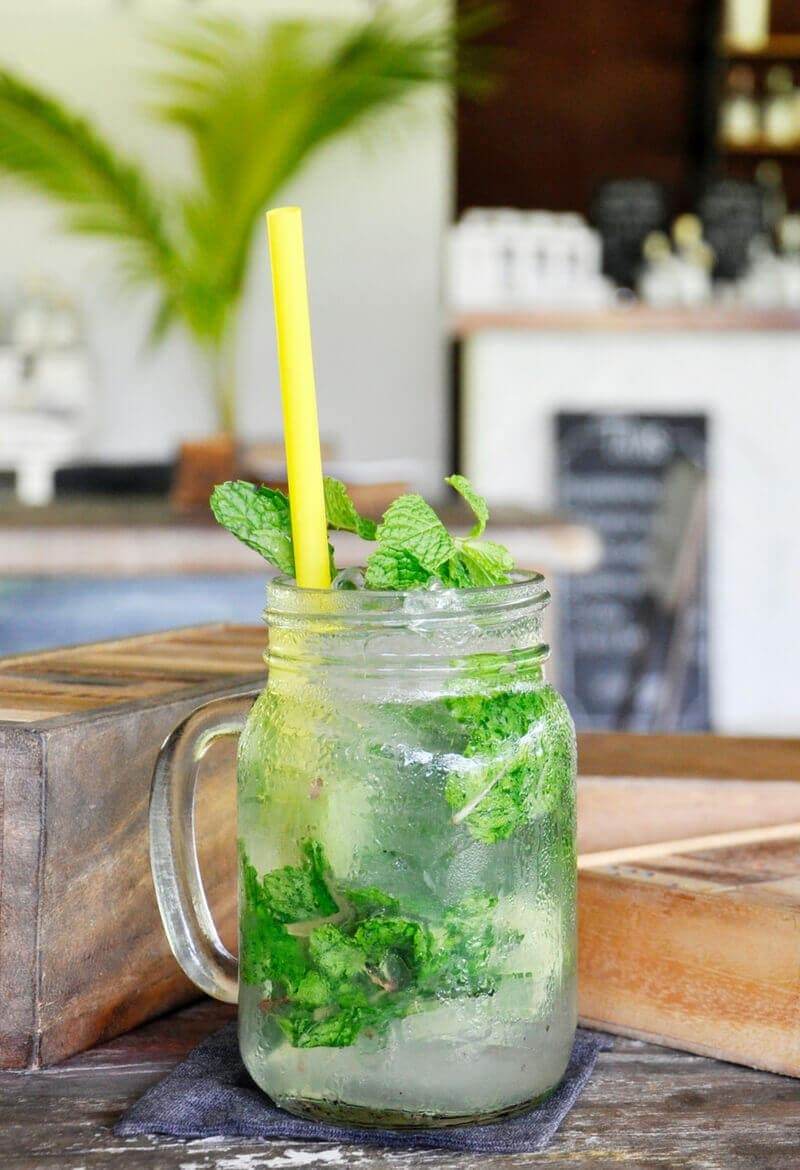 The basic ingredients for my recipe are as follows:
4-5 lime wedges
6- 8 good-sized mint leaves (a small handful, and no stalks)
1 heaped teaspoon of brown sugar, or two good-sized brown sugar cubes
50ml white rum.
It really is as simple as that!
To make the perfect mojito, you will need these items:
Cutting Board
Chef's Knife
Cocktail Shaker
Muddling Stick
Measuring Spoon
Jigger
Highball Glasses
We should note that the quality of a mojito depends first and foremost on the quality of the products used. It is therefore CRITICAL that the mint is fresh and without any brown leaves. Similarly, limes need to be ripe and juicy. A good white rum is best, preferably Bacardi or Havana Blanco. Make sure that ice is as cold as possible, ideally straight out of the freezer, to avoid any watering down of the drink (heaven forbid!).
How to make the perfect mojito
Now here is the exciting bit. But another warning first: the Mojito, like most classic cocktails, contains very few ingredients, but this means that getting the method and the balance right is, as with ensuring the quality of the ingredients, of the utmost importance; there are no colourful and overpowering liqueurs or juices to cover up any mistakes or miscalculations here. The simplest cocktails are, therefore, often the easiest to get wrong.
Start with a juicy lime
First, roll the lime on a hard surface under the palm of your hands to help soften it and make it more juicy. Cut the lime into halves and then cut the half/halves into quarters. If the lime is big, four pieces (ie half a lime) should suffice for one Mojito. If the lime is a little on the small side, use five wedges.
Take a cocktail shaker (or if times are hard a large jam jar) and squeeze the juice from the lime wedges into the shaker; then drop them in. I have a cocktail shaker set like this one. It includes most of the tools I need for traditional cocktail recipes.
Or, better still, if you have some kind of muddling stick or a pestle, muddle (crush) the lime wedges in the bottom of the shaker. Muddling is best as the skin of the lime contains oil that gives the cocktail that extra little sharpness and bite. I have both a stainless steel and a wooden muddler. If you need one, I like starting with a stainless one as it can go in the dishwasher.
Then add the heaped teaspoon of brown sugar and the rum. If using sugar cubes, you will need to muddle again at this point.
Now add a full tumbler's worth of good, solid ice cubes into the mix (this should fill roughly a half to two thirds of the cocktail shaker or jar).
Do not muddle your mint leaves
Finally, take your mint leaves and tear them in half. Then drop them into the shaker on top of the ice and all the other ingredients. DO NOT MUDDLE THE MINT! The cocktail will be fresher and greener this way, and you are also less likely to suck up nasty little soggy green/brown bits of bruised mint through your straw that might then get stuck in your teeth and gums without you knowing (not a good look!).
Now you are ready to shake. So close the cocktail shaker or jar and shake like crazy until the shaker is ice cold in your hands and plenty of mist has formed on the outside.
The Perfect Serve for a perfect mojito
Pin it to save for later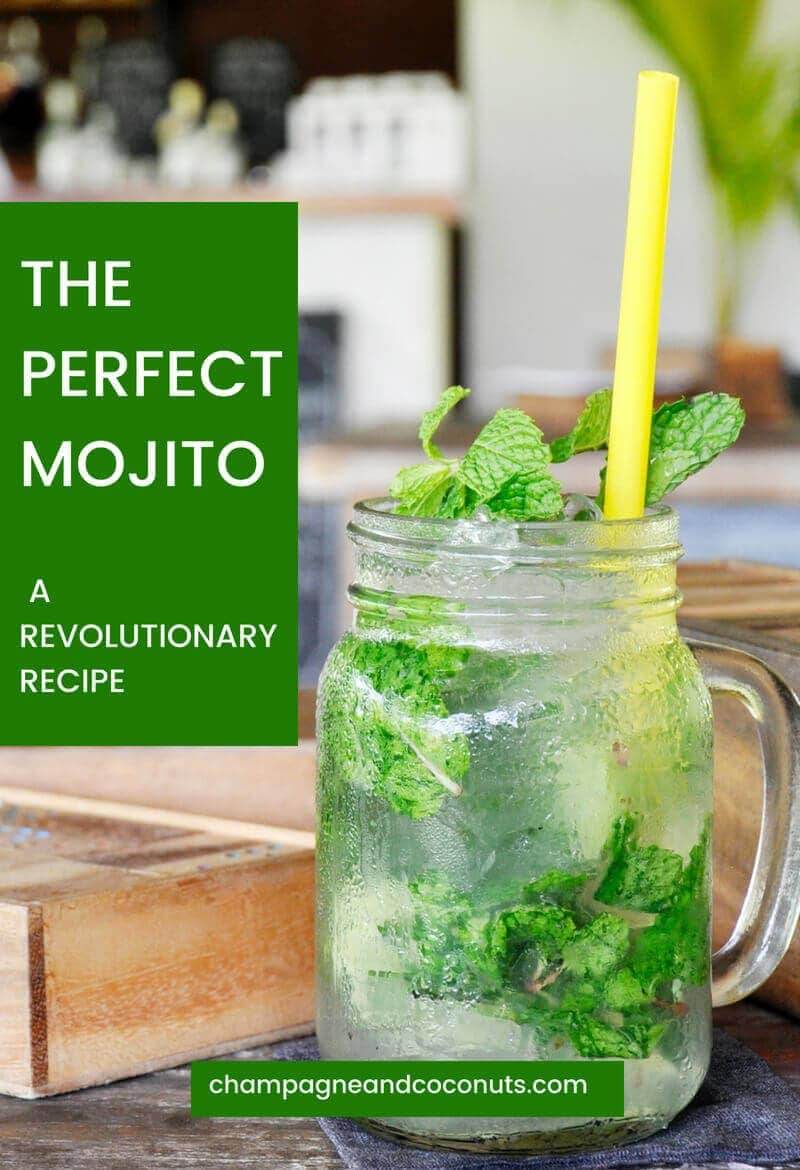 This kind of mojito is what is generally referred to as a 'short' Mojito. A 'long' Mojito tends to be topped with soda (and sometimes lemonade too) and served in a long glass. But why on earth would you want to dilute all these wonderfully powerful, sense-inducing and delicately balanced sharp/sweet and aromatic scents and flavors?
Then, pour the entire contents of the shaker into a short glass, preferably a nice, hefty tumbler with plenty of girth, shove a short straw in and that is that! If you're using a mason jar, I like something like these that comes with a lid to keep flies out of your drink while sipping outside.
As well as enhancing the overall flavour of the drink, my method also results in a refreshing, evenly-spread green colour, adding to the illusion that a Mojito is actually good for you. After all, it does contain at least one of your five a day.
Now all that's left is to sit back and enjoy the fruits of all that blood, sweat and tears. A revolutionary recipe it may be, but isn't that fitting considering Cuba's history? I'm sure that once tasted, even your taste buds will be screaming 'Viva la revolucion!'
Get the recipe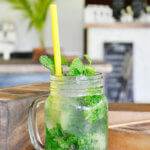 Print Recipe
Perfect Mojito
The perfect mojito is a classic Cuban cocktail recipe. This "short" mojito is made with rum, limes, fresh mint, and brown sugar.
Prep Time3 mins
Total Time3 mins
Servings: 1
Calories: 165kcal
Equipment
Cutting Board

Chef's Knife

Cocktail Shaker

Muddling Stick

Measuring Spoon

Jigger

Highball Glasses
Ingredients
4-5 wedges limes
6-8 leaves mint fresh, no stems
1 Tbsp brown sugar heaping
50 mL white rum Bacardi or Havana Blanco
ice use enough to fill the shaker 2/3 full
Instructions
Roll the lime on a hard surface under the palm of your hands to make it juicy.

Cut the lime in half. Then cut each half into quarters.

In a cocktail shaker, squeeze the juice from 4-5 lime wedges into the shaker. Then drop the wedges inside.

Using a muddling stick, muddle (crush) the lime wedges in the bottom of the shaker to release the lime's essential oils.

Add 1 heaping Tbsp of brown sugar. If you are using sugar cubes, you will need to muddle again now.

Pour 50 mL white rum over the top of the limes and brown sugar.

Add ice to fill the shaker 2/3 full.

Gently tear your mint leaves in half and drop them into the shaker on top of the other ingredients. Do not muddle the mint.

Close the cocktail shaker and shake until it is ice cold.
Notes
You may subsitute 2 brown sugar cubes for 1 heaping Tbsp of brown sugar. Please note that our nutrition information is an approximation and may change depending on your choice of ingredients. 
try it and share!
Please let us know how you enjoy our perfect mojito recipe. If you make it yourself, please let us know on Pinterest that you tried it and tag us with #champagneandcoconuts on your Instagram photo. If you haven't had a chance to make it yet, be sure to save the recipe on Pinterest so you'll remember where you found it.
You may enjoy following our Mojito Recipes board on Pinterest, too.