This post may contain affiliate links. Please see our
disclosure
for more information.
A great way to enjoy fresh blackberries is in a blackberry pie. They are so delicious, especially served warm a la mode. But if you're craving some of that yummy goodness and don't have time to commit to baking a fresh pie, you can always whip up a hot blackberry pie cocktail. It's the next best thing!
Using Fireball Cinnamon Whisky, it really brings some yummy heat to the drink. If you haven't had Fireball before, imagine your traditional warmth of whisky with a touch of caramel flavor; Fireball is lightly sweetened, so between the sweetness and the cinnamon, it's kind of like an apple pie whisky. So when you add fresh blackberries to the mix, it's truly delightful. It's like the combination was made for each other in this fireball whisky recipe.
If you have some fresh blackberries left over, be sure to try our blackberry and peach vodka cocktail too. It's really tasty.
How to make a Hot Blackberry Pie Cocktail
pin it to save for later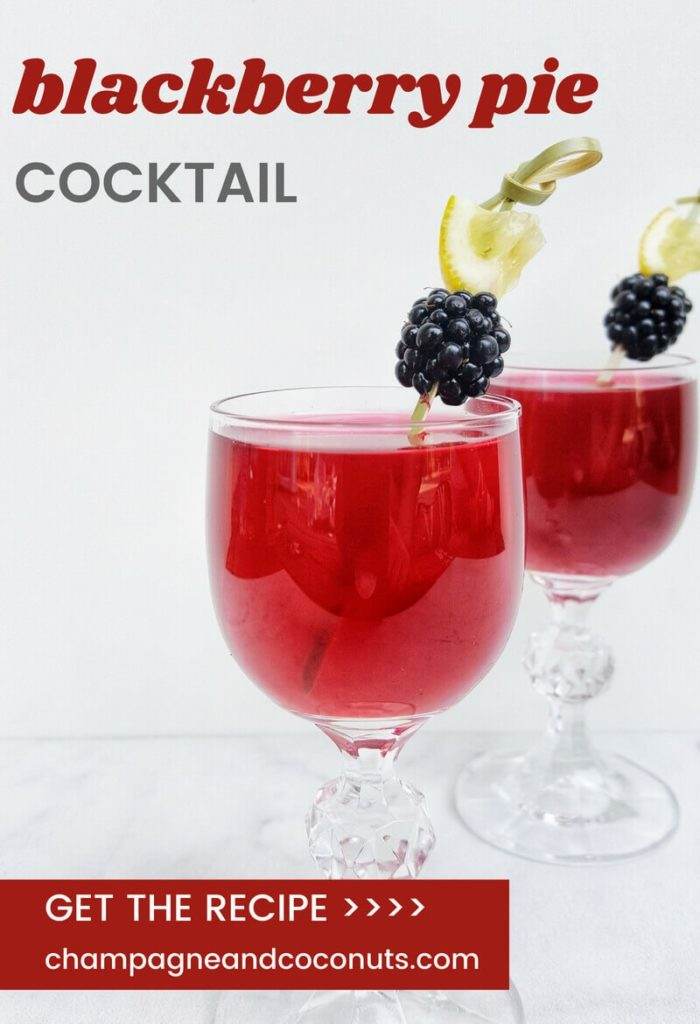 Hot Blackberry Pie cocktail ingredients: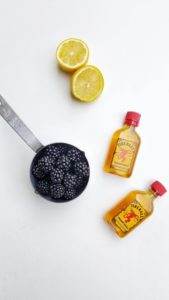 1 cup fresh blackberries
Juice of 1 lemon
4 oz Fireball Whisky (½ cup)
Let's make a drink!
First, wash your fresh blackberries, and gently mash them into a juice using a muddling stick.
Juice your lemon.
Add in the lemon juice, and continue mashing and stirring.
Strain well, making sure there are no seeds or pulp. You should have about ¼ cup of juice total.
Divide the juice among 2 glasses, and add in ¼ cup Fireball Whisky to each.
Top with ice and garnish if desired and serve immediately.
Enjoy!
Make it a mocktail
We like to offer up a way to enjoy the drinks here on Champagne and Coconuts as mocktails as often as we can. With this recipe, if you simply leave out the Fireball, you're really left with the starter ingredients for blackberry lemonade. And blackberry lemonade is delicious. But you'll need to add a bit of sweetener to it to give it some kick.
So if you want to make the hot blackberry pie mocktail, we suggest that you modify it like this: leave out the Fireball whisky, add 4 ounces of water, and add a half teaspoon of cinnamon sugar to give it a bit more sweetness with a hint of cinnamon.
Serve the hot blackberry pie cocktail as a hot toddy
Now, the first thing to think about here is that heat in the hot blackberry pie cocktail recipe is coming from the Fireball, so it has heat in a spicy sense rather than temperature. This particular recipe is made served over ice, but you can serve it like a hot toddy. If you do that, be sure to warm your lemon juice and blackberries first, remove the mixture from the heat, and then stir in the Fireball so you don't cook off any of the alcohol.
When serving the drink as a hot toddy, I like to add a cinnamon stick to the mug. It really brings out the flavor.
Save or print the recipe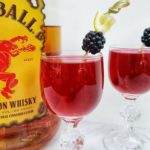 Print Recipe
Hot Blackberry Pie Cocktail
Whip up a fresh blackberry pie in a glass with this delicious, sippable recipe. Instead of spending time in a hot kitchen, make a blackberry pie cocktail instead. Made with fresh blackberries, lemon, and Fireball whisky, it's sure to be a terrific summer delight. It can also be made as a mocktail or as a hot toddy too!
Prep Time5 mins
Total Time5 mins
Servings: 2
Calories: 168kcal
Ingredients
1 cup Fresh Blackberries
1 Lemon juiced
4 oz Fireball Cinnamon Whisky
Instructions
Wash your fresh blackberries and gently mash them into a juice using a muddling stick or fork.

Juice your lemon.

Add the lemon juice to your blackberry juice and continue mashing and stirring.

Strain well. Make sure there are no seeds or pulp. You should have about 1/4 cup of juice.

Divide the juice between two glasses.

Add 2 ounces of Fireball whisky to each glass. Gently stir.

Gently add your ice to each glass, if desired, and add your garnish. Enjoy!
Notes
Please note that nutrition facts are subject to change based upon your choice of ingredients.
If you love whisky, you may enjoy our Granty Burn Old Fashioned, our Pineapple Star Fruit Mint Julep, and our Cranberry Apple Cider infused bourbon made in the Instant Pot. And if you're a Fireball fan, you'll really love our Cinnamon Gingerbread Eggnog. It's made with Fireball and Horchata! YUM!
try it and share!
Please let us know how you enjoy our Hot Blackberry Pie Cocktail recipe. If you make it yourself, please let us know on 
Pinterest
 that you tried it and tag us with #champagneandcoconuts on your 
Instagram
 photo. If you haven't had a chance to make it yet, be sure to save the recipe on Pinterest so you'll remember where you found it.