This post may contain affiliate links. Please see our
disclosure
for more information.
When planning a party with your friends, it's only natural to look up some fantastic pairing guides. Particularly if you're hosting a paint and sip night. You want a lot of fun, but also some culture and sophistication.  While pairing guides often incorporate alcohol and food, rarely do we see one that features art and libations. So we get excited when we find one that is just perfect to help plan our paint and sip night.
We recently shared  a sparkling Van Gogh inspired cocktail to go along with the Perseid Meteor Shower in August. We also shared a Van Gogh Sunflowers inspired cocktail too! Enjoying while having fun with fine art is important to me. That made me think about how long it had been since I had hosted a good paint and sip night; so I started to dig around for some inspiration.
Pairing Cocktails with Art makes for a great paint and sip night
pin it to save for later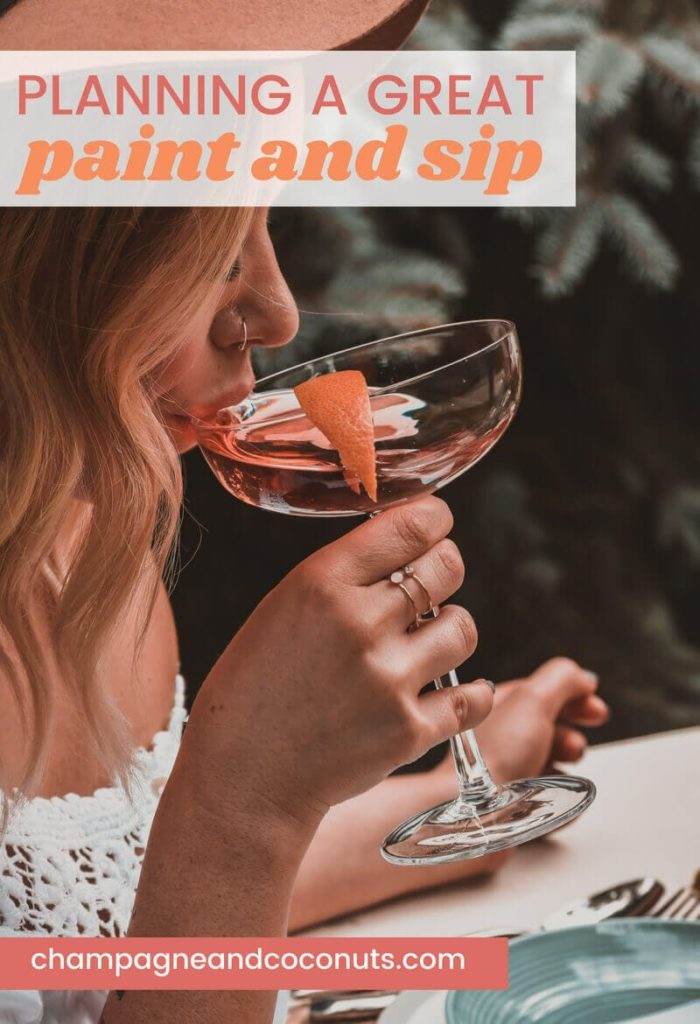 So I was thrilled to find this neat guide from Invaluable that paired iconic works of art from the likes of Van Gogh and many others with unique, craft cocktails inspired by them. You can view each of the seven cocktails and art pairings here, but I'm going to dive into a couple of my favorites that I recommend all art and cocktail enthusiasts give a try.
Oriental Poppies and "Cherry Pomegranate Spritzer"
Who would have thought to pair cocktails with fine art? Check out 7 Craft Cocktails to Pair with Iconic Works of Art like Georgia O'Keefe's Oriental Poppies. https://t.co/HYVy58vksR pic.twitter.com/vQPQEY1lwG

— Champagne and Coconuts (@champagnecoconu) August 24, 2018

Georgia O'Keefe's Oriental Poppies is such a beautiful painting in itself. Inspired by her own fascination with flowers, O'Keefe's 1928 painting is truly breathtaking. In this particular painting, she abstracts elements of two giant poppy flowers in the form of color, shape, and texture. The bright reds are truly mesmerizing. And she even hoped that glancing at these flowers would give all living a fast-paced life, a moment of experience and beauty.
The accompanying "Cherry Pomegranate Spritzer" is a bit more complex than your average spritzer, to parallel the use of abstraction in O'Keefe's works. It draws upon mashed cherries and pomegranate juice to complement the fruity notes of prosecco with accompanying oranges and pansies for garnish. The drink not only tastes delectable, but mimics the beauty and bright reds and oranges evident in O'Keefe's painting.
Woman with a Hat and "Hat's Off" Cocktail
A sparkling #champagne and #Chambord cocktail pairs beautifully with Matisse's painting, Woman with a Hat. Check out these 7 Craft Cocktails to Pair with Iconic Works of Art https://t.co/HYVy58vksR pic.twitter.com/PglDZ00owf

— Champagne and Coconuts (@champagnecoconu) August 24, 2018
I enjoy this particular pairing because I found both the drink and the painting vibrant and beautiful in color but also what they represent.
Woman with a Hat was painted by Henri Matisse in 1905. The painting actually depicts Matisse's wife with an elaborate outfit and classic attributes of the French bourgeoisie. The painting itself was a stylistic change from his earlier work, using lots of colors and loose brushwork. In fact, it was one of the first to spark the fauvism movement, a style that harped on expressionistic, non-naturalistic use of color.
This iconic, expressionistic painting can only be paired with an equally compelling cocktail. The "Hat's Off" is both beautiful in color and sophistication. Combine champagne, raspberry liqueur, and berry simple syrup to create the lovely taste. Then, add colorful berries for extra garnish.
While these were the pairings that caught my eye, there are others in the guide that are equally as delicious. I usually don't drink a lot of mezcal, but the "Frida Mezcahlo" offered a delightful play on words. It made me laugh. It pairs iconic Mexican portrait artist Frida Kahlo's Self-Portrait with Monkey and a lovely mezcal concocted take on the classic margarita has caught my eye! Other cocktails are inspired by the works of Van Gogh and Dali!
Plan your paint and sip night
pin it to save for later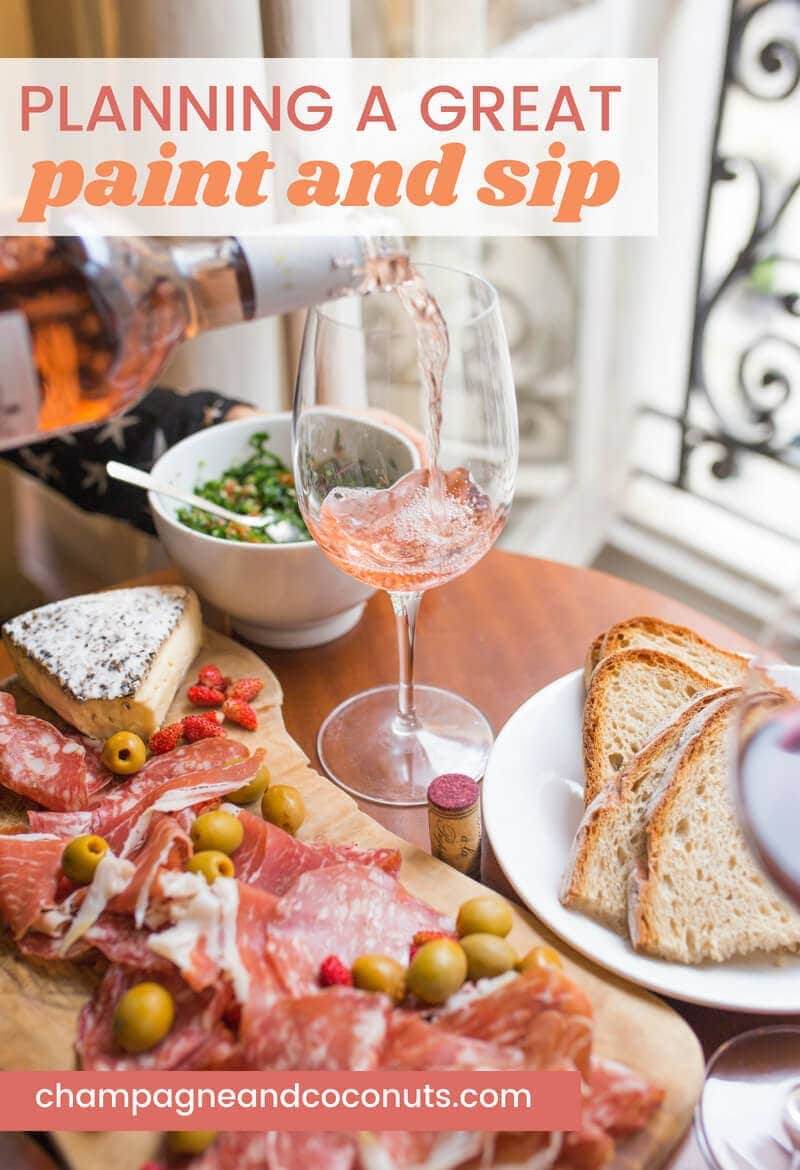 To plan a memorable paint and sip night, you'll need to plan to serve easy to serve food, provide some delicious drinks, and the materials to do some painting. I suggest keeping the food simple by serving:
a charcuterie board with 4-8 varieties of meats depending on how many guests will attend
an assortment of olives, nuts, and dried fruits
a cheese board with 4 soft and 4 hard cheeses
a variety of crackers and breads
and perhaps an olive tapanade
This gives you a variety of tastes for your guests' palates while keeping things simple for yourself.
For your cocktails, I suggest selecting two craft cocktail recipes that coordinate with the artwork you will be recreating. There are a variety of cocktail and mocktail recipes here on Champagne and Coconuts to help you find what you need, and you can also refer to Invaluable's pairing guide for some ideas as well.
We particularly like these drinks that share a common ingredient(s) to easily make together:
I recommend choosing two drinks that use similar ingredients so that you do not have to stock a full bar for the event. You can't go wrong with a champagne or sparkling wine based cocktail. In fact, setting up a small mimosa bar is ideal as you can experiment with colors to coordinate with your art work by mixing various juices with your champagne.
Depending on the artwork you choose, you will need to provide a canvas, paints, and brushes for your guests, Or you can always instruct them to bring their own.
Have fun with your friends while you paint and sip on some great cocktails
Whether you have a liking for whiskey, vodka, tequila, or my personal favorite, champagne, there are cocktails for any and all. Choose your favorite painting and make the accompanying cocktail, and I promise you won't be disappointed! I find this to be fun inspiration for a paint and sip night with girlfriends, so use these as inspiration to create your own art or drinks concoctions.
Please let us know how you enjoy our Tips for Hosting a Paint and Sip Night. If you host one yourself, please let us know on Pinterest that you did and tag us with #champagneandcoconuts on your Instagram photo. If you haven't had a chance to make it yet, be sure to save the recipe on Pinterest so you'll remember where you found it.
You may enjoy following our Pinterest Board, Entertaining at Home and Party Ideas.