This post may contain affiliate links. Please see our
disclosure
for more information.
If you're a big Game of Thrones fan like we are, you're likely to either be hosting or attending a watch party. Whether it's with a large group or just you and a few on your couch, serving up some themed drinks is perfect for the final season.
Great Game of Thrones Themed Drinks for your Watch Parties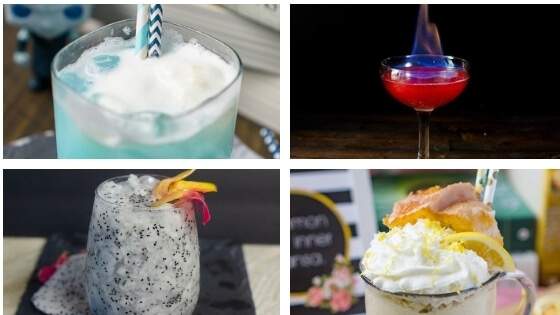 We have rounded up some of our favorite Game of Thrones inspired cocktails for you to enjoy. Whether you're cheering for House Stark or House Targaryan, or if you just really want to see the Night King do his thing, we've got you covered.
With drinks inspired by dragons, wildfire, white walkers, and various characters and locations, you'll find what you need to throw an amazing Game of Thrones theme party.
Our Favorite Game of Thrones Inspires Cocktail Recipes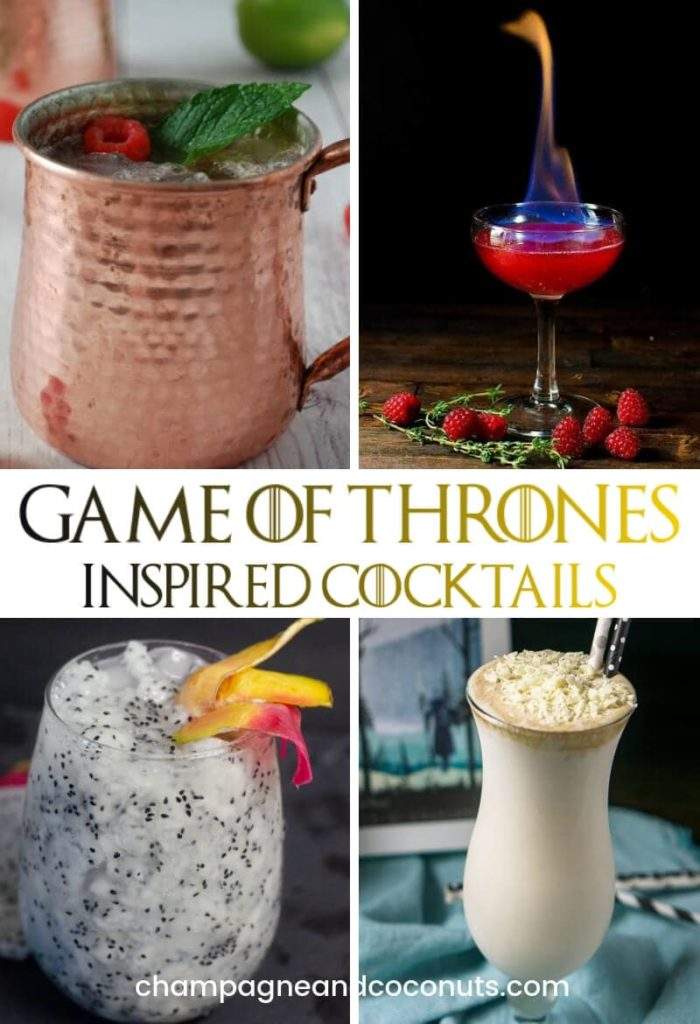 The Vale Mule – A Moscow Mule inspired by the scenery and landscape of The Vale of Westeros. You can find it at The Gingered Whisk.
Flaming Dragon's Blood Cocktail – This Game of Thrones inspired Flaming Dragon's Blood Cocktail (Thyme and Raspberry Daiquiri Cocktail) is simple, fruity and refreshing!
The Frozen White Walker White Russian – This delicious vanilla milkshake is spiked with Kahlua and Vodka to make it like a White Russian. Pour one of these when you're ready to stand with Winterfell. This drink is from The Love Nerds.
The Mother of Dragon Fruit Cocktail is inspired by Daenerys Targaryan, First of Her Name, Mother of Dragons, Breaker of Chains… This delicious dragon fruit and rum cocktail is one of our cocktail recipes here at Champagne and Coconuts.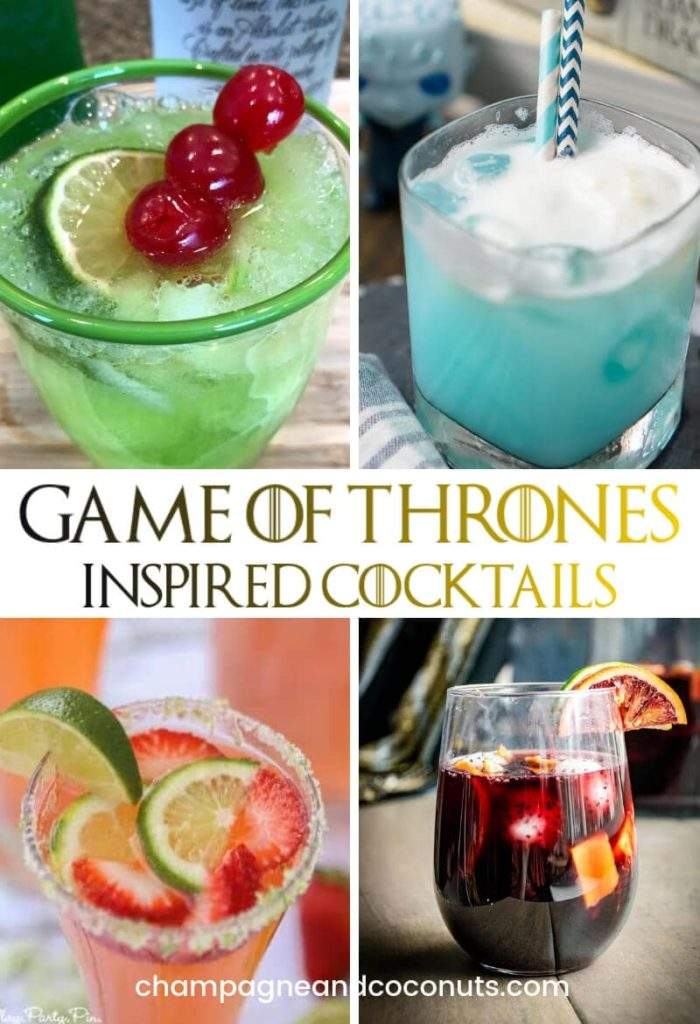 More great drinks inspired by Game of Thrones
Liquid Wildfire – When it's time to set things on wildfire, you need some green wildfire. This Midori based cocktail is from Me and My Inklings.
Ice Dragon Cocktail – It just kills me that the Night King has Drogon as an Ice Dragon now. That stinks. But this yummy blue raspberry drink sure doesn't! You can find it at The Love Nerds.
Cersei's Sangria – Cersei sure loves her wine. There can be no doubt that she would love sangria as much as she loves her wine. And she's not ashamed! This recipe was shared with us by The Starving Chef Blog.
Citrus Strawberry Mocktail – As beautiful as the gardens in Highgarden, House Tyrell would be proud to sip on this delicious mocktail. But I think they might spike it too. You may find this recipe at Play Party Plan.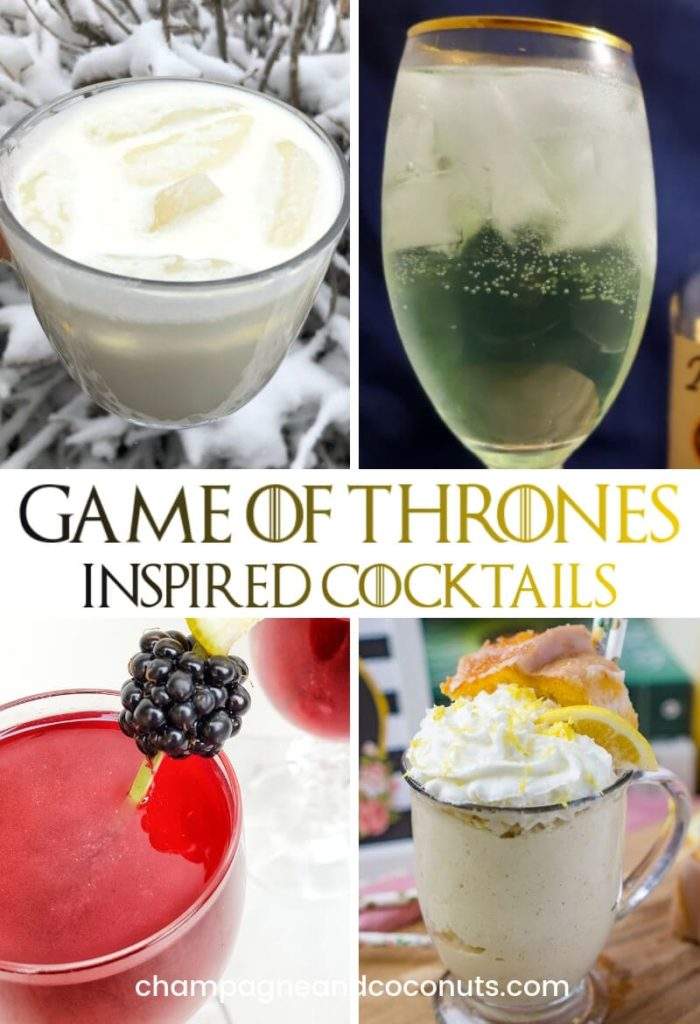 Milk of the Poppy – For times when the going gets tough, you need some milk of the poppy to make you feel better. This delicious Rum Chata cocktail is decadent. It's also from Me and My Inklings.
King Joffrey the Usurper's Poison – Joffrey was one of those characters we just love to hate. So naturally, his themed drink is related to the poison that took him out. You can find this keto-friendly cocktail at Mama's Geeky.
Sansa's Lemon Cake Milk Shake – I think Sansa is one of those characters who is really going to have an amazing story arc in the final season. I think she may turn out to be as vital as Arya, so let's let her have her cake and eat it too – her favorite lemon cakes that is. This recipe is also from our friends at The Love Nerds.
I Drink and I Know Things – Our fiery blackberry and cinnamon whiskey cocktail is perfect to serve at your watch parties for House Lannister. It's that perfectly deep Lannister red, and it's made with a whiskey that Tyrion would enjoy. This is one of our signature recipes.
more fan inspired cocktail recipes here at champagne and coconuts
If you enjoy fan inspired cocktail recipes, we have some more that you may enjoy. We are not-so-secret geeks here at C&C.
If you love Marvel's Avengers, you'll enjoy checking out our roundup of drinks inspired by the epic series. These Awesome Avengers Drinks are great for the kids, but there's no reason they can't be spiked.
Aquaman fans will love The Golden Trident. I mean, anything related to Jason Momoa is just yummy right?
If you are a Harry Potter fan, we have a handful of drinks you may enjoy. We have a great recipe for Harry Potter's Pumpkin Juice, a dry ice cocktail inspired by the Crimes of Grindelwald, and our blue curacao based drink inspired by the Occamy Beast in Fantastic Beasts and Where to Find Them.
If you love Hocus Pocus like we do, check out our fun homage to the Sanderson Sisters, Another Glorious Morning.
And of course, we would be remiss if we didn't have some great Star Wars drinks for you to serve in your cantina!
try it and share!
Please let us know how you enjoy trying some of these great Christmas Cocktail recipes. If you make one yourself, please let us know on Pinterest that you tried it and tag us with #champagneandcoconuts on your Instagram photo. If you haven't had a chance to make it yet, be sure to save the recipe on Pinterest so you'll remember where you found it.
You may enjoy following our Pinterest Boards, Avengers Themed Cocktail and Mocktail Recipes, and Fandom Inspired Cocktail and Mocktail Recipes.
Disclaimer: Never use blogger photos without permission. We obtained permission to use the photos included in this article from various Facebook Roundup groups. Links were submitted by blog owners/representatives and are being used in accordance to the group rules.