This post may contain affiliate links. Please see our
disclosure
for more information.
There's nothing better during the holiday season than a delicious cocktail. And we love finding new and creative drinks to make, especially this time of year. Whether you need something for a Christmas party or a just a cozy evening at home, our roundup has a little something for everyone. Let's get merry with these cheery Christmas cocktail recipes.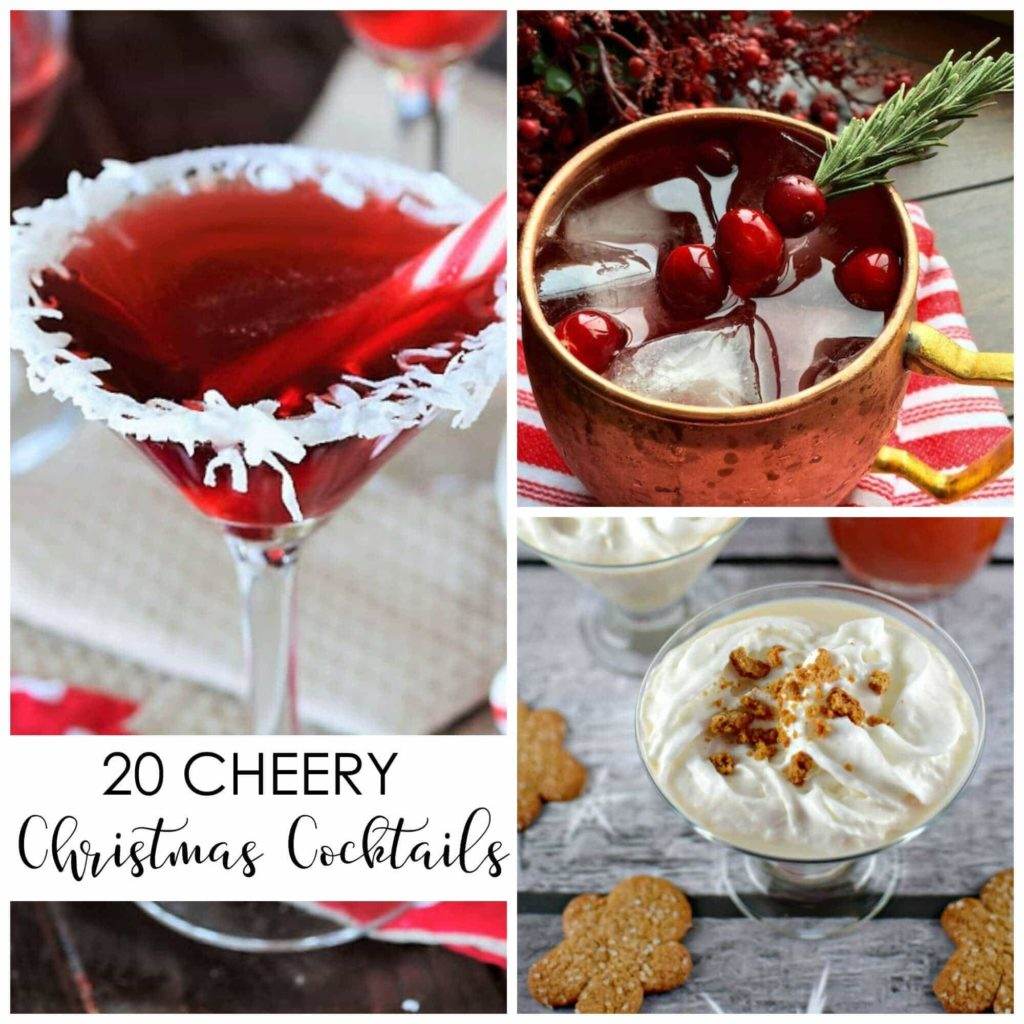 Over 20 Cheery Christmas Cocktails
These Christmas Cocktails include all the flavors of the season, from cranberries to gingerbread. There really is a cocktail for everyone. Some of these recipes are particularly perfect for Christmas and not only taste delicious but really look nice and Christmas-y too! Others are great to serve during the winter and include flavors and ingredients that make perfect Christmastime cocktails.
We've selected everything from sangrias to punches to signature cocktails so that you can have a great time selecting some delicious drinks.
Whip a few of these up to make the season just a little merrier. Be sure to bookmark your favorites and come back for even more holiday drink recipe inspiration. We often add more to the list as we find more delicious drinks to share.
Let's make some festive holiday drinks!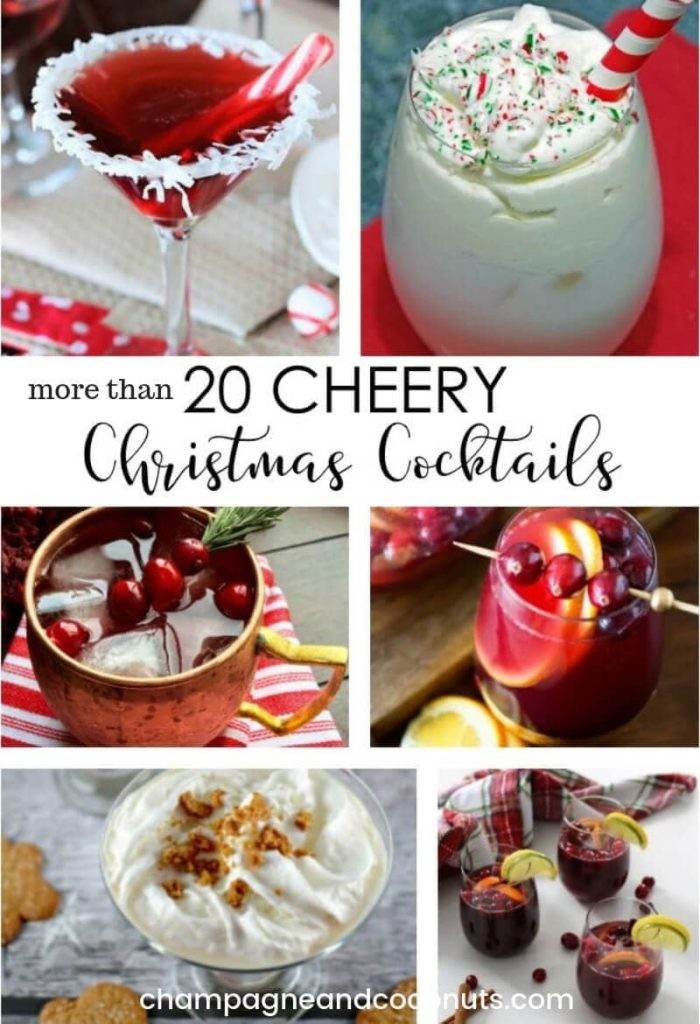 White Chocolate and Peppermint Christmas Cocktail Recipe from Suburbia Unwrapped
Warm Christmas Cocktail with Coconut and Bourbon from  The Wicked Noodle
Cranberry and Orange Vodka Cocktail from The Petite Cook
Santa's Hat Cocktail from The Kitchen is My Playground
Cranberry Mint Fizz from Simply Darling
Holiday Sangria from Kennary Ideas for the Home
Hot Blackberry Pie Cocktail with Fireball from Champagne and Coconuts
Cranberry Moscow Mule from  Wonky Wonderful
Cranberry Holiday Punch from Simply Darling
Enjoy more cheery Christmas cocktails, sangria, and punch recipes
Easy Cranberry Sangria from A Night Owl
Grinch Punch from Simplistically Living
Cranberry Moscow Mule from Val's Kitchen
The Best Wassail Bowl Punch from Champagne and Coconuts
Mistletoe Cocktail from This Lil Piglet
White Christmas Margarita Punch from How Sweet Eats
Sparkling Spiced Rum Cocktail from The Awesome Muse
Cinnamon Apple Spiced Mule Shots from Champagne and Coconuts
Pomegranate Ginger Paloma from Half Baked Harvest
Delicious Christmas Drink recipes
Cranberry Pineapple Punch from Real House Moms
Cranberry Gin Cocktail from Lauren Caris Cooks
Instant Pot Cranberry Apple Cider Bourbon from Champagne and Coconuts
White Chocolate Snowflake Martini from Lulus
Cranberry Orange Margaritas from Half Baked Harvest
The Grinch Ice Cream Float from Champagne and Coconuts
Christmas Champagne Cocktail from Cooking with Janica
Gingerbread Martini from Simply Darling
More Delicious Beverages to serve during the holidays
Frosted Cranberry Cocktail with Sugared Cranberry Garnish
Cinnamon Gingerbread Eggnog made with Fireball and Horchata
Sparkling Apple Martini with Prosecco
Bourbagne – a Champagne and Bourbon cocktail from The Awesome Muse
Chocolate Covered Raspberry Martini
Pistachi-Gnome Pudding Shots  from Champagne and Coconuts
Cranberry Apple Spice Mules from Dash of Jazz
Blushin' Russian from The Good Hearted Woman
Crimes of Grindelwald Cocktail from Champagne and Coconuts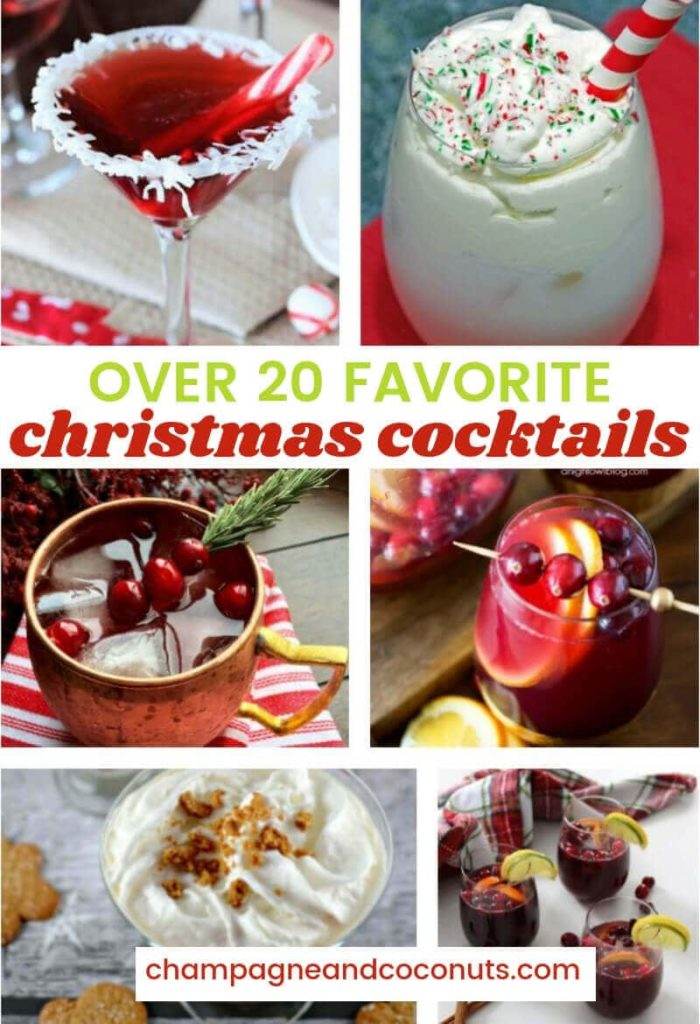 try it and share!
Please let us know how you enjoy trying some of these great Christmas Cocktail recipes. If you make one yourself, please let us know on Pinterest that you tried it and tag us with #champagneandcoconuts on your Instagram photo. If you haven't had a chance to make it yet, be sure to save the recipe on Pinterest so you'll remember where you found it.
You may enjoy following our Pinterest Boards, Holiday Cocktail and Mocktail Recipes, and Christmas Cocktail and Mocktail Recipes.
Disclaimer: Never use blogger photos without permission. The Virtual Assistant (Sarah) who prepared this post obtained permission to use the photos included in this article from various Facebook Roundup groups. Links were submitted by blog owners/representatives and are being used in accordance to the group rules.