This post may contain affiliate links. Please see our
disclosure
for more information.
It's Shark Week! It's time to celebrate with a bloody shark bite cocktail. And this drink has teeth!
I always get excited for Shark Week. I love a great thrill, and anything that gets my adrenaline pumping is a welcome addition to my summer. Just watching those brave souls cage diving from the comfort of my couch is just my speed. You see, I'm too chicken to go cage diving myself. I'm one of those people that seems born to prove Murphy's Law, so I play it safe. And what can beat sipping while sharking?
The Bloody Shark Bite Cocktail is great for Shark Week and Halloween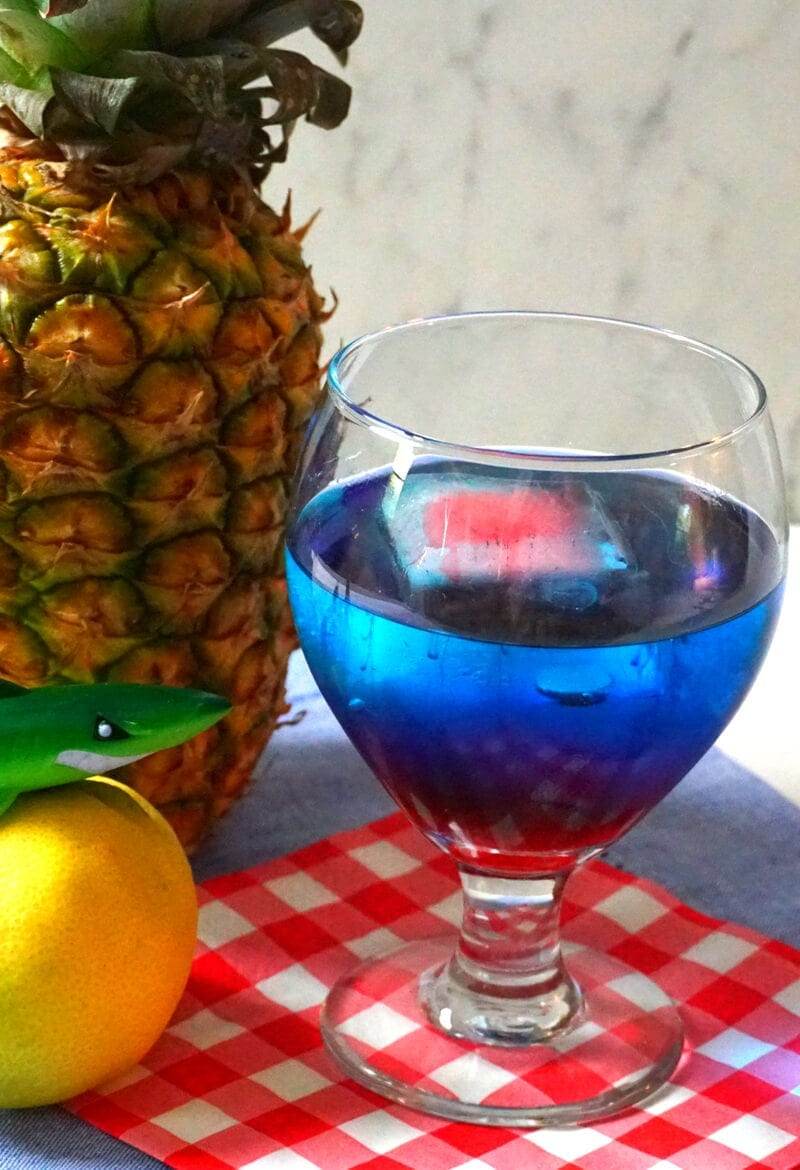 So I really wanted to craft a cocktail just for Shark Week. But because it's a Bloody Shark Bite, it's perfect for Halloween too! Win! I got the inspiration for the bloody shark bite while meandering through a sale at a local store. Summer pool toys were on a major sale, and I saw these adorable diving toys that were sharks! They were all different colors, and instead of thinking about tossing these sharks in a pool, I thought about tossing them in a drink! Ha! And the bloody shark bite was born.
As I thought about how I wanted to make the bloody shark bite, I wanted it to be a drink that's fun for everyone. So there's not only a cocktail recipe, but I've also crafted it as a shot and as a mocktail. It's just a lot of fun, so why not make it fun for everyone? Here, you'll find the recipe for the cocktail and mocktail. The companion shot recipe for the Shark Bite Shot deserved its own post.
What you need to make the Bloody Shark Bite Cocktail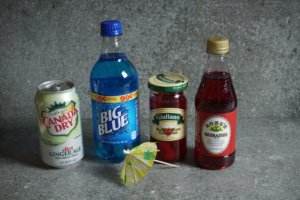 When you opt to use diet ginger ale of lemon-lime soda, the bloody shark bite is a low calorie cocktail with only 108 calories! It's fin-tastic!
First of all, this recipe calls for large ice cubes. The reason you want to use a giant ice cube is that the concave side of the cube, the side that's the top while it's freezing in the tray, will serve as your well to hold the "blood," aka grenadine. So I recommend making these ahead of time. I use a silicone ice mold like this one to make large square ice cubes:
You will also need:
1/2 oz Grenadine
4 oz Big Blue Cream Soda
1 oz Vodka
1 oz Diet Ginger Ale or Lemon Lime Soda
1 large ice cube
Maraschino Cherry for garnish or to sink
Making the Bloody Shark Bite
In a mixing glass, pour 4 oz of Big Blue Cream Soda, 1 oz vodka, and 1 oz of ginger ale or lemon-lime soda. Gently stir and pour into your glass. Add your giant ice cube to the glass with the concave indentation up. Pour grenadine into the ice cube's indentation to hold the "blood." It's okay if you pour a little more grenadine to overflow into the cocktail. The extra grenadine will sink to the bottom of the drink. Garnish with a maraschino cherry on a pick.
Note:  You can make the bloody shark bite without the giant ice cube, but be mindful that the grenadine will either sink to the bottom of your glass or it will blend with the Big Blue and vodka to make your drink a bit purple. If you don't have large ice cubes to use, you will want use chilled vodka, Big Blue and ginger ale and serve it in a chilled glass.
I suggest pouring the grenadine in the bottom of your glass and then pouring the vodka and Big Blue over the back of a spoon to layer it so that you will have a clear division of "blood" from the blue ocean water. Then add your ice cubes to the drink so it doesn't disturb the layers. That will look something like this if you make it this way.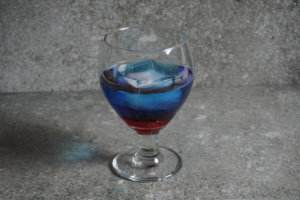 And that is a perfect drink for the Fourth of July! Since it's made with a cream soda, just squirt some whipped cream and top with a maraschino cherry for a great patriotic drink. This recipe is so versatile!
Make it a mocktail!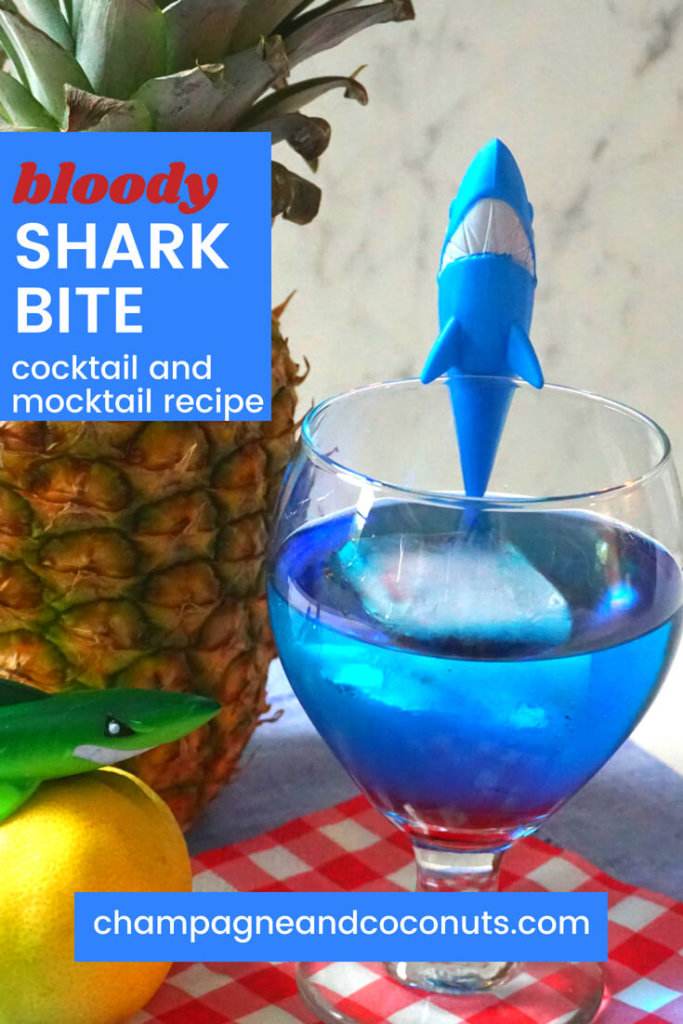 It's really easy to make the bloody shark bite into a mocktail. Simply replace the 1 oz of vodka with an additional ounce of Big Blue Cream Soda, and you have a delicious, non-alcoholic drink that's great for the kids or anyone else who isn't craving a cocktail.
Why replace it with more Big Blue rather than kicking up the ginger ale? The ginger ale will alter the color if you use more of it. It will take your drink to a much darker shade if you add more than the recipe calls for, and this drink is meant to be served blue. Adding more ginger ale will turn it purple.
Save or print the recipe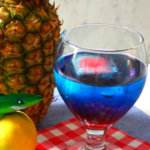 Print Recipe
Bloody Shark Bite Cocktail
The Bloody Shark Bite cocktail is a vodka and cream soda cocktail that's perfect for your Shark Week or Halloween celebrations.
Prep Time5 mins
Total Time5 mins
Servings: 1
Calories: 108kcal
Ingredients
1/2 oz Grenadine
4 oz Big Blue Cream Soda
1 oz Vodka
1 oz Diet Ginger Ale or Lemon-Lime Soda
Instructions
In a mixing glass, combine Big Blue cream soda, vodka, and ginger ale (or lemon-lime soda). Gently stir.

Pour mixture into your cocktail glass.

Gently add your giant ice cube to the drink so that it does not submerse. Be sure to point the side with the concave indentation upwards to form a small well.

Pour grenadine into the ice cube's well to float the fake "blood."

Garnish with a maraschino cherry on a pick and enjoy!
Notes
Please note that the nutrition facts are subject to change based upon your choice of ingredients. 
try it and share!
Please let us know how you enjoy our Bloody Shark Bite cocktail and mocktail recipe. If you make it yourself, please let us know on 
Pinterest
 that you tried it and tag us with #champagneandcoconuts on your 
Instagram
 photo. If you haven't had a chance to make it yet, be sure to save the recipe on Pinterest so you'll remember where you found it.